KOCE's David Nazar has apparently bought into the unfounded allegations and slander that were pitched by the Los Amigos of Anaheim at their recent press conference, against the Santa Ana City Council and SAPD Chief Paul Walters.
Nazar's report will air, according to the Santa Ana Coalition for Better Government, whose leaders don't live in Santa Ana, this Thursday, at 5:30 pm and 11 pm, on Channel 8, in Santa Ana.
Nazar is the only minority employed by KOCE's Real Orange.  The rest of their news team is all-white.  It is small wonder then that they are going after the all-Latino Santa Ana City Council and Mayor Miguel Pulido.
I already debunked the silly Los Amigos' complaints in a previous post.  And I wrote about their press conference at this link.  Suffice to say that their spokesperson, Francisco Barragan, had no answers when I showed up and questioned his complaints.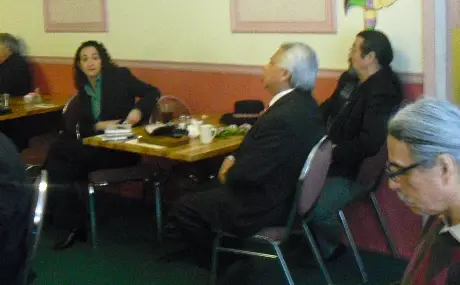 Why did any media show up to this event, which was orchestrated by failed Santa Ana mayoral candidate Alfredo Amezcua?  Simple.  He hired former L.A. Times reporter Jennifer Delson to serve as his publicist.  She was there at the press conference.  I caught her whispering orders to the Los Amigos Chairman, Amin David, and to Barragan.
Check out the surprised look on Delson's face, in the picture above.  When I showed up to the press conference she panicked.  She shut down the press conference when I asked one too many questions that Barragan simply could not handle.
As for Amezcua, he literally ran out of the room once I started asking questions.  In fact David called out his name, wanting him to speak, but Amezcua had already flown the coop.
Why doesn't Amezcua just accept that he lost?  In fact he lost badly!  I would prefer to see him offering solutions instead of his endless gripes.  Too bad KOCE fell for this B.S.