A friend of mine named Tony Everett has spent the past year developing Pure Game, a unique platform that infuses the game of soccer with a character-building curriculum for youth. Pure Game uses the most popular sport in the world to deliver a life-changing message of growth and empowerment. Soccer breaks down barriers of culture, language, and mistrust. It creates a great opportunity to build relationships and establish trust. As this occurs, the kids he works with begin to feel comfortable and cared for enough to engage in a relationship with them. It is then that they are able to help them reach their full potential and make good choices that reflect the beautiful truth of who they are.
For the last couple of months, they have seen an incredible opportunity to work in Santa Ana's inner-city. Children there are regularly confronted with gang violence, domestic abuse, child abuse, and many other dark and criminal distractions. They are faced with tough decisions regarding whether they should give in to peer-pressure and propagate the status quo or take the high road and risk standing out. Unfortunately, the apparent benefits of giving in, as fleeting as they are, can be quite seductive. For many of these kids, gang and criminal activity are the only way they actually feel like they are a part of a community that embraces.
Robert is a participant in KidWorks, an organization Everett partners with. He is a perfect example of the kids they are trying to reach. Robert is a mischievous 10 year old boy, full of anger and really fiery. He is always on the verge of being kicked out of KidWorks, but desperately needs to stay. A couple of weeks ago, he was raising a ruckus as usual. The receptionist warned him to behave or he would be asked to leave, and possibly not return. His sidekick that day, Jose, heard the warnings and chimed in. "Robert, you had better stop or you're not going to be able to play Pure Game anymore." The thought of not being allowed to play soccer with them caused Robert to consider how his actions can affect his life. His desire to be a part of Pure Game was enough to convince him to stop what he was doing and start changing his ways. The staff at KidWorks took notice. Even in its infancy, Pure Game is making a difference.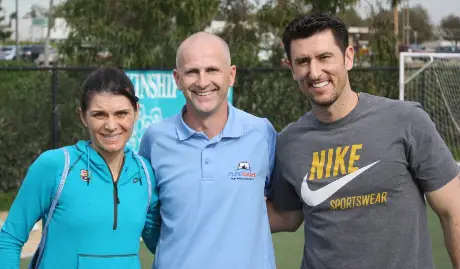 On November 3, 2010, while sitting in one of his many coffee shop offices, Everett realized Pure Game has the potential to influence the lives of many children this way. There is real darkness in and around places where children like Robert live, and they need the light of hope to shine into their lives. With strong role models and servant leaders creating a loving, caring environment, these kids can begin to step into the truth of who they are; beautiful beings, created in the image of God, containing eternal, infinite value, significance, and worth.
Sitting in that coffee shop on a warm California day he realized how transformative and far-reaching Pure Game could be. Everett gathered a team of capable and passionate individuals who could help make this dream a reality. They wrote out a plan that involved the inevitable; leaving the comfort of Everett's full-time job to tackle this challenge head-on.
Since Pure Game is a non-profit serving the most underprivileged children in Orange County and beyond, the families involved are unable to bear the financial burden of keeping them up and running. So in order to move forward, they need people who are willing to partner with them financially. They have calculated a need to raise $60,000 by April 2011. Without it, Pure Game can't be anything more than a spare-time hobby for whoever is involved.
Today Everett is asking for your support in several ways:
• A onetime donation – Click here
• Ongoing monthly financial support – Click here to send an email so Everett can send you a package
• Prayer – Click here to send a confirming email
• Introduction to corporate sponsors – Send contact information by clicking here
Your contribution to Pure Game will ensure that every week kids with few options are being cared for, having fun, and acquiring skills and strengths that vastly improve their chances of having a happy and successful life. Everett and his staff will make every effort to ensure that your contribution provides the greatest possible benefit to the children Pure Game serves.
Pure Game is a registered 501c3 charitable organization. Your sponsorship is deductible from your taxable income as allowed by law.