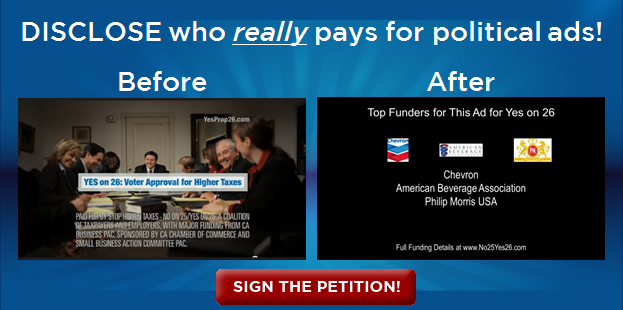 Come to the Orange County campaign kickoff for SB 52, the California DISCLOSE Act! Join SB 52 supporters including Assemblymember Sharon Quirk-Silva, Community College Trustee and former Assemblymember Jose Solorio, Costa Mesa Councilmember Sandy Genis, and local activist leaders to kick off the local legislative campaign for the California DISCLOSE Act.
WHEN: March 23rd, 2013 12:00 PM through 2:00 PM
WHERE: The Delhi Community Center, located at 505 East Central Ave, in Santa Ana.
SB 52, the California DISCLOSE Act, would change the Big Money game and fight back against unlimited hidden spending on campaigns by letting voters know who REALLY is paying for political ads — on the ads themselves.
Assembly Member Sharon Quirk-Silva, former Assembly member Jose Solorio, and Costa Mesa Citycouncilmember Sandy Genis will talk about why it's so important to make sure voters know who's paying for political ads.
Dr. Jose Moreno, President of Los Amigos and Anaheim City School District board member will emcee the kickoff.
Trent Lange, President of the California Clean Money Campaign, the sponsor of SB 52, will describe how the California DISCLOSE Act works, outline the statewide campaign to pass the bill, and answer all of your questions.
We will end with a brainstorming and organizing session for the local grassroots coalition. Learn what you can do to join the movement!
Refreshments will be served.
Please invite anyone you know who is sick of the outrageous amounts of anonymous spending in politics and might be interested in helping bring about Fair Elections. Let's stop Special Interests from secretly stealing California elections!
If you get lost or have any questions, call Craig Preston's cell phone 323-966-0026. See you there!
Click here to register for Orange County Kickoff for SB 52!
Sponsor:
California Clean Money Campaign
Co-Sponsors:
• Americans Organized for Change
• California LULAC
• Canyon Democratic Club
• Concerned Citizens of Laguna Woods Village
• DFA-OC
• Democratic Club of Central OC
• Democratic Club of West OC
• Democratic Party of Orange County
• Democrats of Greater Irvine
• Democrats of North OC
• Laguna Beach Democratic Club
• Laguna Woods Democratic Club
• Los Amigos of OC
• LULAC Santa Ana Council
• Maplight.org
• Military Families Speak Out
• MoveOn – Irvine & South OC Council
• MoveOn – North OC Council
• Newport Beach Women's Democratic Club
• OC League of Latin American Citizens Foundation (LULAC)
• OC Peace Coalition
• OC Veterans for Peace
• OC Young Democrats
• Organizing for a Better America
• Pomona Valley Chapter – Progressive Christians Uniting
• Progressives United
• Progressive Christians Uniting of OC
• Progressive Democrats of America – OC
• Reclaim Democracy – OC
• Seal Beach – Leisure World Democratic Club
• Social Action Committee of Unitarian Universalist Church in Fullerton
• Social Justice Committee Unitarian Universalist Church in Anaheim
• South Orange County Democratic Club
• Women For: OC.
• 72nd Assembly District Alliance
• 99Rise-OC
CONTACT: Phone: 323-966-0026, Email: oc-info@caclean.org
Optional Donations:
DISCLOSE Hero $ 500.00
DISCLOSE Champion $ 250.00
DISCLOSE Booster $ 100.00
DISCLOSE Supporter $ 50.00
DISCLOSE Friend $ 25.00
Regular attendee (no charge) $ 0.00