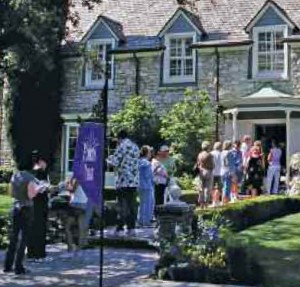 PRESS RELEASE
PR Contact: Linda SchulteTel (714) 742-1845Email: hometour@floral-park.com

FLORAL PARK ANNOUNCES 21st ANNUAL HOME & GARDEN TOUR
SANTA ANA, CA, February 1, 2013 – The Floral Park Neighborhood Association (FPNA), located in historic North Santa Ana, will be celebrating its 21st annual Home & Garden Tour on April 27-28, 2013. The event will spotlight the FPNA's ongoing efforts to promote restoration and preservation of the neighborhood's unique homes and the many people who have supported those efforts.
One hundred two neighborhood homes are now listed in the Santa Ana Register of Historic Properties. Since the first Home & Garden Tour in 1993, more than 195 homes and gardens in Floral Park have been opened to visitors from the United States and Europe.
Located in the northern tip of Santa Ana, Floral Park and its homes have been featured in publications such as The Orange County Register, Orange County Home, Orange Coast, Mary Engelbreit's Home Companion, Southern California Home and Outdoor, The LA Times, and OC Metro.
Floral Park was named "Best Neighborhood" in the Orange County Register's 14thAnnual People's Choice Best of Orange County, and Neighborhood of the Year in 2005 by Neighborhoods USA (NUSA), primarily as a result of the annual Home and Garden Tour and its example of what a volunteer effort can bring to building a community.
In the early 1920s, during one of California's building booms, developers began constructing homes in a wide variety of styles influenced by European architecture brought home by returning soldiers from World War I, as well as the international influences of Hollywood movies. The twenty-square-block area of Floral Park area became an eclectic collection of building styles including Beverly Hills Bungalow, Hacienda, Spanish Eclectic, Mediterranean Villa, Mission, Farmhouse, English Tudor, French Normandy, Colonial, Federal, Georgian, Cape Cod, California Ranch, Storybook, and Art Deco.
The tree-lined streets of the neighborhood capture the spirit of a simpler time from a bygone era. Once blanketed by orange, avocado, and walnut groves, a few original farmhouses can still be seen throughout Floral Park, and the sweet smell of orange blossoms still fills the air. Whether experiencing a stroll through the beautiful vintage homes and gardens, searching for antiques and collectibles on our Street of Treasures, viewing the classic automobile display, or enjoying asnack at the food and drink concessions, attendees will surely leave the Floral Park Home & Garden Tour with nostalgic memories of a day well spent. Comfortable walking shoes are recommended. (No high-heel shoes will be permitted in homes.)
Tickets can be purchased in advance before April 20 for $25 by mail or online at www.floral-park.com. Tickets are also available for $30 on April 27 and 28 at ticket booths located at Flower & 19th Streets and Victoria Drive & Santa Clara in Santa Ana. For more information please visit www.floral-park.com or call 714-673-5137.
(Presented by the Floral Park Neighborhood Association, a 501(c)(3) organization. In addition to providing funding for this and future Home & Garden Tours, proceeds from the Tour benefit local charities, scholarships, and various neighborhood beautification projects.)
###