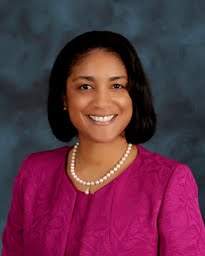 FOR IMMEDIATE RELEASE
Contact: Deidra Powell
(714) 558-5555
New Deputy Superintendent – Stefanie Phillips, Ed.D.– Joins SAUSD
SANTA ANA, CA — March 20, 2013 – The Santa Ana Unified School District Board of Education has recently appointed Stefanie Phillips, Ed.D., to the position of Deputy Superintendent of Operations, Chief Business Officer, for the Santa Ana Unified School District. Prior to her appointment, Dr. Phillips was Deputy Superintendent for the Clayton County School District in Jonesboro, Georgia, where she had direct oversight for the Academic, Human Resources, Operations and Finance Divisions.
Prior to her position with Clayton County, Dr. Phillips was Deputy Superintendent and Associate Superintendent for Chino Valley Unified School District and Assistant Superintendent of Ontario-Montclair School District.
"I am very excited to join the Santa Ana Unified family. I believe my skills and abilities will complement the dedicated staff we have working hard toward the success of our students. My focus is to align resources and provide support for teaching and learning throughout the district as outlined by the vision and mission of the Board of Education and Superintendent Dr. Thelma Meléndez de Santa Ana," said Stefanie Phillips, Ed.D.
As the new Deputy Superintendent of Santa Ana Unified, Dr. Phillips will be responsible for overseeing the daily operations and management of the sixth-largest district in the State of California and the second largest employer in the city of Santa Ana.
Dr. Phillips received her Doctorate from the University of Southern California in Education Leadership, and she received her Master of Business Administration in Finance and Bachelor of Science in Managerial Economics from the University of California, Davis.
Dr. Phillips is replacing Mr. Michael Bishop who retired from the District on December 31, 2012.
###