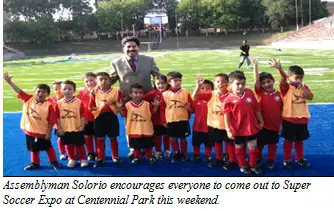 Join Assemblyman Solorio at two Memorial Day Weekend Events
Super Soccer Expo

The Santa Ana Soccer Association, Santa Ana Youth Soccer Association, and Assemblyman Jose Solorio invite everyone to Super Soccer Expo 2010, a colossal event featuring soccer clinics, youth and adult soccer tournaments, resource fair booths, and entertainment for the whole family. The two-day, family-friendly celebration is free.
When: Saturday, May 29th and Sunday, May 30th
9:00 a.m. to 10:00 p.m.
Assemblyman Solorio encourages everyone to come out to Super Soccer Expo at Centennial Park this weekend.
Where: Centennial Regional Park
3000 W. Edinger Avenue
Santa Ana, CA 92704
Website: www.SuperSoccerExpo.com
________________________________________
Garden Grove Strawberry Festival
The 52nd Garden Grove Garden Festival is one of the largest and oldest community festivals in the western United States. Carnival rides, contests, celebrities and plenty of music will combine to make this the best Strawberry Festival yet. Don't miss the Strawberry Festival Parade on Saturday morning. The parade begins at 10:00 a.m. at Ninth and Chapman.
When: Memorial Day Weekend, May 28 – 31
Friday, 1:00 p.m. – 10:00 p.m.
Saturday and Sunday,
10:00 a.m. – 10:00 p.m.
Monday, 10:00 a.m. – 9:00 p.m.
Where: Village Green
Between Euclid and Main streets
Garden Grove, CA 92840
Website: www.strawberryfestival.org
________________________________________
Capitol Office: State Capitol, P.O. Box 942849 • Sacramento, CA 94249-0069
Phone: (916) 319-2069 • Fax:(916) 319-2169
District Office: 2400 East Katella Avenue, Suite 640 • Anaheim, CA 92806
Phone: (714) 939-8469 • Fax:(714) 939-8986
E-Mail: Assemblymember.Solorio@assembly.ca.gov
Web Site: www.assembly.ca.gov/solorio