Free Comic Book Day, what some call the fanboy answer to Christmas, is happening Saturday. "The Avengers," featuring some of the most popular characters in comic book lore, is already rampaging through theaters. It's going to be a good weekend for nerds and the industry that serves them, according to the L.A. Times.  Participating comic book shops across North America and around the world give away comic books absolutely FREE* to anyone who comes into their stores. *Check with your local shop for their participation and rules.  Click here to check out the Free Comic Book Day Facebook page.
But the giveaway offer isn't limited to superhero comics: All genres are fair game, including Disney comics, Japanese Manga, Tokyopop, newspaper strip staples like "Archie," and work from independent artists.  Participation level varies from store to store, but the comics given away will be special edition works packaged specifically for the holiday. This year's offerings include special editions of "The Avengers" (of course), "Peanuts", "Transformers," and, for the youngest comic book fan in your clan, "Yo Gabba Gabba," according to CSM.  Click here to see which comic books are being given away today.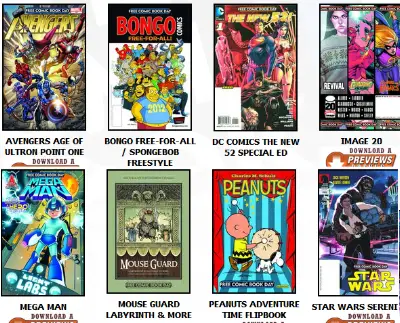 In addition to the comic books, many vendors offer free swag like movie posters, keychains, and T-shirts.
Comic books began in the 1930s as a unique American art form that has grown – like so many American forms of entertainment – to spread around the globe. From Japanese businessmen reading manga on the subways of Tokyo to French artists re-interpreting Proust with words and pictures, comics have changed entertainment and challenged perceptions. These days, there are comic books for every taste, from slam-bang super-hero adventures and thoughtful slice-of-life to thrilling science fiction and intense drama.
Local stores that are participating in Free Comic Book Day include:
Most of these stores are open today at 11 am to about 6 or 7 pm.
If it's been a while since you've read a comic book, prepare to be pleasantly surprised by the breadth of variety available!  If you're new to comics, here's some information that will help you get the most out of them.