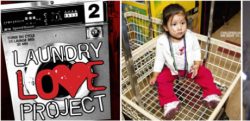 Laundry Love Santa Ana is happening again on Thursday, February 17, from 7:30 p.m. to 10:30 p.m., to Lavanderia Santa Ana, located at 406 East Santa Ana Blvd., in Santa Ana.  Click here to RSVP on Facebook.
Laundry Love Projects (LLPs) are regular opportunities to help people who are struggling financially by assisting them with doing their laundry. Relationships are built, and LLPs become small communities of common concern in which participants often find that they receive assistance and benefit with other areas of their lives.

Upon hearing about Just One's Laundry Love Project, we embarked upon this journey with you all, to connect deeper with the people struggling to get by here in Santa Ana.
or those living below the poverty line, washing clothes presents both a logistical problem and a financial hardship. From a conversation with a local homeless friend who conveyed this basic need, the Laundry Love Project™ (LLP) was birthed.
Laundry Love Projects partner with local laundromats in cleaning the clothes of those living in shelters, motels, cars, garages and on the streets. It is our mission to take laundromats and convert them into hubs of relief, granting reprieve to those living in oppressive poverty through aid in education, basic medical care and assistance in job and housing placement.
here are lots of ways you can help.
Our biggest need right now is for people to volunteer to help with the operational needs of the events themselves. We are hosting training sessions in order to equip folks to do this. Please consider coming our with your church group, civic club or coworkers to help run an event.
We need quarters, powdered laundry soap, dryer sheets and volunteers. Gift cards to Sam's Club or Costco are always welcome as they are easier to store than than boxes of soap.
We would like to partner with organizations who would like to offer services and intakes for their services.
If you can coordinate snacks or drinks for around 150 people or so, we would love for you to do that as well.
While we prefer to have you come out and join us at one of our events, we understand that some are unable to so Xealot has generously volunteered to be our fiscal sponsor so that you can support us by check (online donations will be accepted soon).
To make contributions by check, please make all checks payable to "Xealot" and put "Laundry Love Santa Ana" in the memo field. Checks can be sent to their office listed below:
Xealot
18842 Teller Ave. Irvine, CA 92612
or  online via Facebook Causes.
More than anything, we need warm friendly people who want to listen, care for and help the poor and hurting.
Currently, we are asking volunteers to arrive and park near 406 East Santa Ana Blvd around 7:30pm for a brief orientation and stay 15 minutes after for an debrief.