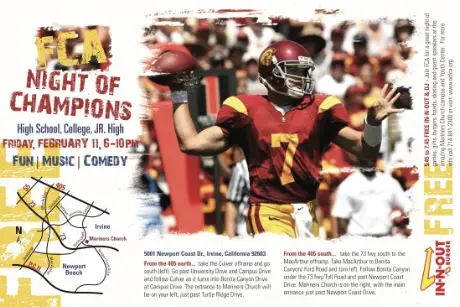 Santa Ana's Saint City Session has been asked to host a session for students being bused in from high schools across orange county, at the FCA (Fellowship of Christian Athletes) Night of Champions, at the Mariners Church in Irvine, located at 5001 Newport Coast Dr., on Feb. 11, from 6 to 10 pm.
They need help facilitating art, dance competition, music, and more.  Let them know what you can do.  Come earlier for setup, and please contact them if you want to volunteer.
FREE, In N Out Burger, Bands, Skaters, Dancers, Jodie Nelson-Pro Surfer, Matt Barkley-USC Football, Wade Yandall-UCLA Football, fun and games.
Bring your Huddle, Bring your High School, Bring all your friends-Introduce them to FCA!!! A Night you don't want to miss! Friday, February 11th, 2011 6:00 pm – 9:30 pm @ Mariners Church, Community Center/Student Center. Free In N Out starting at 5:45 to 7:45. Share this event!!!
Click here to RSVP on Facebook.