Power of One Foundation (POOF), working with the City of Santa Ana and other nonprofit groups and businesses, is providing an emergency food assistance distribution at MainPlace Mall in Santa Ana. The Power of One Foundation also is having one at the OC Fair & Events Center in Costa Mesa.
The Sikh Center of Orange County is having a drive-through food pantry in Santa Ana as well.
Here are the details for all three food events on Saturday, July 11:
• MainPlace Mall, 2800 N. Main St., Santa Ana, 8-10 a.m.; the line begins at MainPlace Drive and Main Street no earlier than 7 a.m.
• OC Fair & Events Center, 88 Fair Drive, Costa Mesa, 8 a.m. to 12 p.m. (noon)
• Sikh Center of Orange County, 2530 Warner Ave., Santa Ana, 9-11 a.m.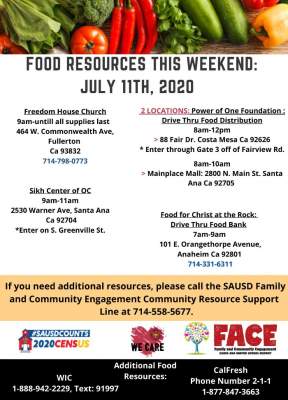 Please stay in your car with the windows rolled up when receiving food. Make sure your vehicle trunk is empty so food can be placed in it.
For more information on POOF food events, visit www.powerofonefoundation.org. For more on the Sikh Center, go to www.facebook.com/SikhCenterofOrangeCounty/.