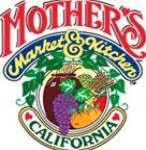 Mother's Market in Santa Ana and the American Diabetes Association are hosting a Free Diabetes Seminar on Tuesday, December 10, 2013, from 6:30 pm – 7:30 pm.
An American Diabetes Association survey says 40% of high-risk individuals thought they were not at risk of developing diabetes or prediabetes, while 30% of those with modifiable risk factors believed they had an increased risk of the condition. Health providers said 25% of at-risk patients were very well-informed about their higher diabetes and heart disease risk.
The Santa Ana location is located at 151 E Memory Ln., at the CityPlace shopping center [map].
Mother's has gained a reputation for having a wide selection for  specialized diets, top quality local and organic produce, the county's  largest selection of supplements — all at a great value!  Organic,  Non-GMO, vegan, vegetarian, gluten-free, low carbohydrate, low-glycemic,  low-fat, low-salt and more — Mother's has something for everyone.
Mother's Market and Kitchen serves the needs of each unique customer by carrying a wide spectrum of products not readily  available elsewhere. Our staff in every department are there to help you find exactly what you're looking for — and if we don't have it, we'll do our best to get it.
Mother's stocks an extensive choice in vitamins, minerals, amino acids, herbs, homeopathics, sports nutrition and condition-specific supplements — offering excellence in quality, selection and price! We know it can be overwhelming so we are here to help. While we can't give medical advice, we're happy to help you distinguish between different products and give you resources for your own research. We want to partner with you on your pursuit of excellence in health.