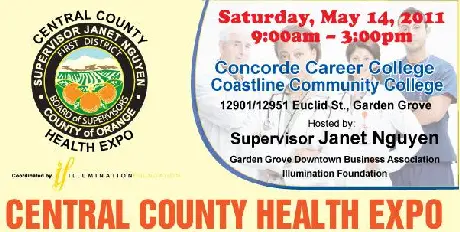 First District Supervisor Janet Nguyen is hosting a "Central County Health Expo" in Garden Grove, on May 14, from 9:00 a.m. – 3:00 p.m.
The Expo will feature free medical services, health screenings, social services and vision services.

Other host include the Garden Grove Downtown Business Association and the Illumination Foundation.
Click here for additional information.
The event will be held at Concorde Career College/Coastline Community College, at 12901/12951 Euclid St., in Garden Grove.