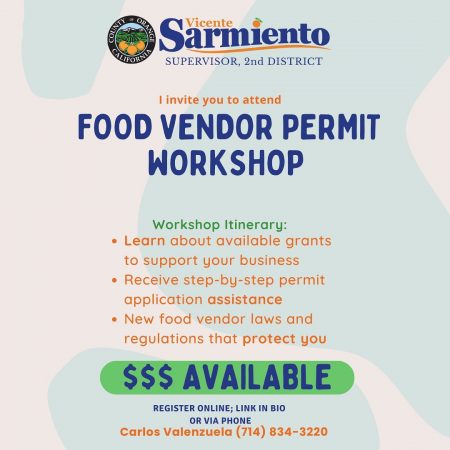 O.C. Supervisor Vicente Sarmiento and the County of Orange are hosting a free workshop that will provide valuable information regarding obtaining a food vending permit from the Orange County Health Care Agency (OCHCA), on June 16, 1012 at 10:30 a.m., at the O.C. Health Care Agency, located at 1241 E. Dyer, Suite 120, in Santa Ana.
Representatives from the O.C. Health Care Agency will be present with the goal of educating our community on the new laws that support food vendors.
Workshop Itinerary:
Learn about available grants to support your business
Receive step-by-step permit application assistance
Learn about new food vendor laws and regulations that can protect you
Register here or call Carlos Valenzuela at 714-834-3220.