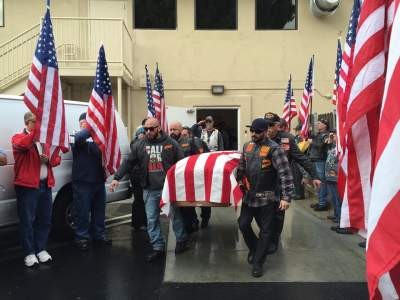 The Santa Ana man who died in a New Year's Day head-on crash in East Whittier, Matthew George Tapia, a 24-year-old Marine, was lad to rest on Saturday, January 10, 2015, at Fairhaven Memorial Cemetery, in Santa Ana.
Tapia's body was escorted by members of the Orange Plaza Patriot Guard, who honored him with a flag line and a salute.  His Memorial Service was on Friday night at Calvary Chapel Tustin.  A reader reported that it was standing room only and people had overflowed into the hallways while trying to attend the service.
After the service the motorcycle riding Patriot Guard, with flags flying and colored lights blinking, escorted Matthew's body to the cemetery.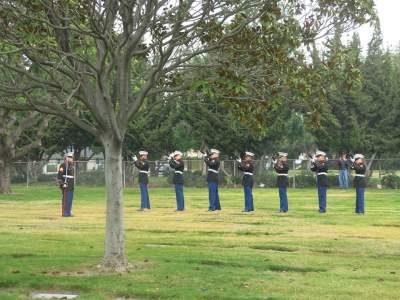 On Saturday at the funeral, the Leathernecks MC [Marines] placed Tapia's body into the hearse. On a slow walk to the grave site, the hearse was escorted by the family, followed by the Marines, a jazz band (playing New Orleans style jazz) the American Flag carrying Patriot Guard and the Leathernecks MC. Tapia received full military honors.
Tapia was an Eagle Scount previous to joining the Marines.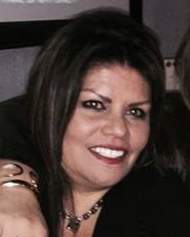 There will be a  viewing for the Azusa woman who died in the same car accident, Corina Villareal, 54, on Saturday, January 17th, 2015, at 10:00 a.m. at the Whites Funeral Home, located at 404 East Foothill Boulevard, in Azusa, CA.  Call (626) 334-2921 for more information.
Funeral Services will follow at approximately 11:45 at the Oakdale Cemetery, located at 1401 South Grand Avenue, in Glendora, CA.  Call (626) 691-2000 for more information.
After the services there will be condolences at the V F W, located at 16157 East Gale Avenue, in the City of Industry, CA. Phone:(626) 968-4782.
A funeral fund for Villareal has been set up at this link.