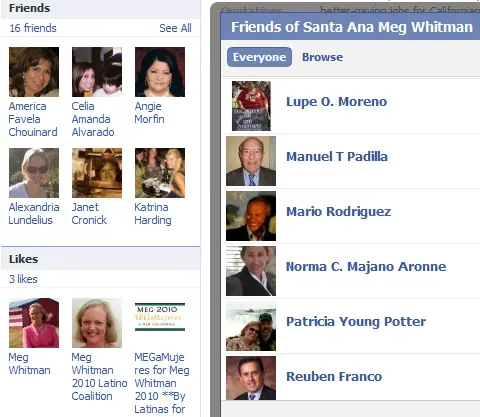 Meg Whitman just doesn't get it.  She opened an office in Santa Ana, ostensibly to reach out to Latino voters, but now her new Meg Whitman Santa Ana Facebook page includes Minuteman Lupe Moreno, who wants to get rid of many of Santa Ana's Latino residents.  No bueno Meg!
Any kind of Latino outreach that includes Minutemen isn't outreach at all.
To make matters worse for Ms. Meg, she only has 16 friends on this page!  Lame.
Besides Moreno, Santa Ana Councilman Carlos Bustamante has been seen at Meg's Santa Ana office.  He is also actively campaigning for Van Tran, who is running against Congresswoman Loretta Sanchez.