Alas poor Mike Gonzalez. Not only did he lose his Santa Ana City Council race on Nov. 6, he also got bad news early on Friday morning as his restaurant/nightclub El Mexicanisimo caught fire.
A total of 65 firefighters showed up at the scene, at around 3:15 a.m., to fight what turned out to be a wind-driven fire that started on the roof of the facility, according to the OCFA.
The fire was knocked down quickly but the nightclub is a complete mess.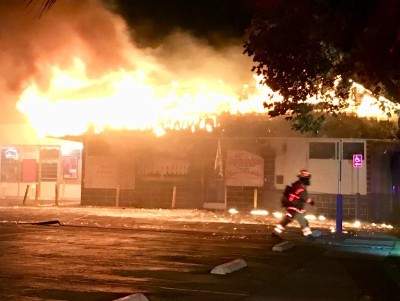 Fortunately no injuries were reported.
As is usually the case in such fires the firefighters poured a lot of water into the facility. The building is leased so the property owner's insurance will cover the damage but Gonzalez' insurance will cover the business interruption, which means he and his staff will get paid while the facility is restored.
Gonzalez reported that there was a lot of water and smoke damage. Most likely the nighclub will have to be gutted and completely rebuilt.
The OC Health Department has ordered the facility to be shut down until it can be rebuilt and approved.