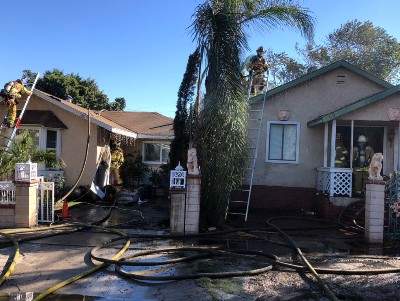 A fire damaged two homes at the 400 block of N. Laurel St., in Santa Ana, this morning just past 9 a.m., according to the OCFA.
High winds downed a power line that came into contact with trees near the houses. The fire spread to the roofs of the homes and then grew.
OCFA firefighters were able to keep the fire from spreading to any more homes despite the Santa Ana winds.
Most of the damage was to the roofs of the homes. No injuries were reported.
Fourteen residents were displaced by the fire.
The fire occurred just south of Cesar Chavez Campesino Park.