DISCOVERY CUBE'S PARENT EDUCATION PROGRAM – FUTUROS RADIANTES – EARNS 2016 SUPERINTENDENT'S AWARD FOR EXCELLENCE IN MUSEUM EDUCATION
Spanish-Speaking Parents Learn How to Prepare Preschoolers to Enter Kindergarten Successfully through Discovery Cube's Futuros Radiantes/Bright Futures Program
SANTA ANA, Calif., March 7, 2016 – Discovery Cube receives one of only six 2016 Superintendent's Awards for Excellence in Museum Education for its Futuros Radiantes/Bright Futures program, recognized for helping Spanish-speaking parents teach children ages 5 and younger how to read, understand the concept of numbers and develop complex language skills. The program features a series of bilingual Spanish and English workshops designed to engage low-income families in science, technology, engineering and technology (STEM) education and prepare young learners to succeed in school.
"Research has shown that if a child enters kindergarten with a robust vocabulary of complex words and a strong sense of numbers, these are early predictors of successful academic and work careers in that child's future," Discovery Cube Program Instructor Elena Serratos said. "Of course, we want all children to have the greatest opportunity for success. The Futuros Radiantes program is helping parents be the catalysts of that success for their children."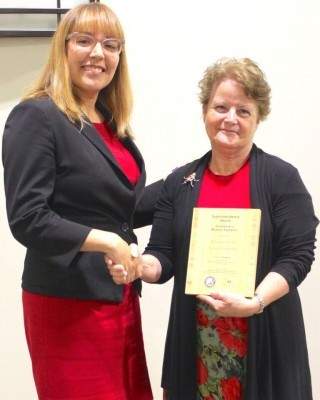 STEM education is more important than ever, especially in light of data released by Greg Duncan, an economist and University of California Irvine education professor. He's a national expert on the importance of strong early math skills and has concluded that early math skills are one of the best predictors of later success in math and literacy. His 2007 study has become a lightning rod, sparking a movement among early childhood educators in the United States to expand math instruction in preschool through third grade.
Parents involved with Futuros Radiantes learn how to help their children excel in science, math and reading. The education even ventures into other key parenting skills, such as how to raise children with healthy emotional skills and foster a life-long love of learning and exploration. All parents who participate in the program come from lower-income families and Spanish is usually their primary language.
Given that 80 percent of participants have emigrated from Mexico, Discovery Cube designed Futuros Radiantes to introduce parents to educational concepts popular in the United States. This includes being involved directly in their children's education, working in partnership with educators and enrolling young children in preschool.
"This way, children get a jump-start on learning," Serratos said. "Parents discover what to expect from Common Core State Standards and Next Generation Science Standards curriculum and can begin to implement at home some of the math and English language arts education their children will learn in kindergarten and beyond."
Plus, Futuros Radiantes is one of the first introductions to science education these parents and their youngsters will have. The program aligns with two of Discovery Cube's four core initiatives, by teaching STEM proficiency and helping prepare children to be school ready.
The Superintendent's Awards for Excellence in Museum Education recognizes outstanding programs serving K-12 students and/or educators in California on March 3, 2016, at the 2016 California Association of Museums Annual Luncheon. The competition is a joint project between the California Association of Museums (CAM) and the Office of the State Superintendent of Public Instruction. Janet Yamaguchi, vice president for education, represented Discovery Cube at the ceremony.
About Discovery Science Foundation
The Discovery Science Foundation serves as the program-development, marketing and fundraising arm for hands-on science learning museums in Orange County and Los Angeles. Established in 1989, the original nonprofit Taco Bell Discovery Science Center in Santa Ana, now renamed Discovery Cube Orange County, presented by Taco Bell, continues to inspire and educate millions of young minds through engaging science-based programs and exhibits. In 2012, the Center was named one of the 10 "Most Trusted Brands" in Orange County and in 2013 was awarded the National Medal of Service from the Institute of Museum and Library Services.
In November 2014, Discovery Cube Los Angeles, a second nonprofit museum offering an exhibit and program mix unique to Los Angeles, opened in the Hansen Dam Recreational Area of the San Fernando Valley. For more information, call (866) 552-CUBE (2823) or visit discoverycube.org. Follow the Orange County and Los Angeles campus on Twitter (@DiscoveryCubeOC and @DiscoveryCubeLA).
###