DISCOVERY CUBE PREPARES TO BLOW YOUNG MINDS WITH 20th ANNUAL BUBBLEFEST
Outdoor Festival Combines the Artistry of Bubbles with the Awe of Real Science in a Spellbinding Laser, Lighting and Magic Show for the Whole Family
SANTA ANA, Calif.  – Calling all budding bubbleologists, Discovery Cube invites Southern California families to spend spring break at the 20th annual Bubblefest, an outdoor festival featuring bubble scientist and performance artist Deni Yang. This hands-on exhibit has been the most popular attraction at Discovery Cube for two decades, since 1996. Bubblefest will run March 26 to April 10, 2016 at Discovery Cube's Orange County campus.
"They're fun, fragile and fantastic – as well as one of the most complicated structures in science to study," said Joe Adams, CEO, Discovery Science Foundation. "Almost everyone has happy childhood memories of blowing and chasing these simple rainbow-hued orbs made of soapy water and air, yet bubbles represent some of the most complex concepts in chemistry, physics and geometry. The enduring popularity of Bubblefest proves that the significance of bubbles goes far beyond baths and playtime. Popping the science of bubbles is something of interest for everyone."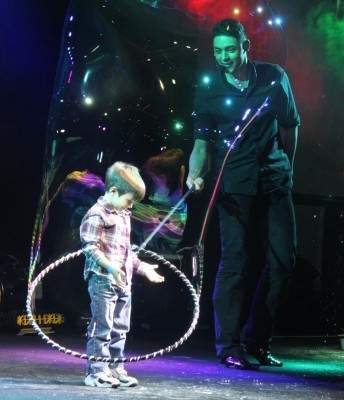 The highlight of the festival will be a 45-minute Mega Bubblefest Laser Show production at the 10,000 square-foot Julianne Argyros Showcase Theater, which Discovery Cube unveiled in 2015 as part of its 44,000 square-foot campus remodel and expansion. Famed bubble scientist and performance artist Yang will lead the viscous variety stage show, which will combine music, lasers, lighting effects and bubble artistry to create a spectacular experience for all ages.
Yang – a second-generation bubbleologist following in the footsteps of parents Fan and Ana, who are Guinness Book of World Record holders and inventors of the Gazillion Bubbles Show – has wowed audiences around the world with his hypnotic stage performances. Bubblefest goers will see him blow bubbles of all shapes, sizes and colors – some filled with swirling smoke and others seemingly dancing and rotating in mesmerizing displays of visual artistry. He also will invite a few lucky youngsters on the stage during each performance to participate in various acts of bubble magic and tricks.
Bubblefest will also feature water spheres, a bubble zone for guests of all ages and other bubble-focused educational experiments, including interactive activities for early learners who are 5 years old and younger.
The festival will pop into Discovery Cube in Orange County on March 26 and run through April 10, 2016. General admission ticket prices are $17.95 for adults, $12.95 for children ages 3 to 14, $14.95 for seniors age 62 and older, and free for children 2 years old and younger, plus the Bubblefest add-on ticket price is $5 for members and $7 for nonmembers and $10 on the day of the event. General admission tickets include all Cube interactive exhibits, and Bubblefest tickets provide admission to one Mega Bubblefest Laser Show and all bubble-themed exhibits and activities. Discovery Cube is open daily from 10 a.m. to 5 p.m. Tickets can be purchased online or upon arrival at the Discovery Cube entrance.
About Discovery Science Foundation
The Discovery Science Foundation serves as the program-development, marketing and fundraising arm for hands-on science learning museums in Orange County and Los Angeles. Established in 1989, the original nonprofit Taco Bell Discovery Science Center in Santa Ana, now renamed Discovery Cube Orange County, presented by Taco Bell, continues to inspire and educate millions of young minds through engaging science-based programs and exhibits. In 2012, the Center was named one of the 10 "Most Trusted Brands" in Orange County and in 2013 was awarded the National Medal of Service from the Institute of Museum and Library Services.
In November 2014, Discovery Cube Los Angeles, a second nonprofit museum offering an exhibit and program mix unique to Los Angeles, opened in the Hansen Dam Recreational Area of the San Fernando Valley. For more information, call (866) 552-CUBE (2823) or visit discoverycube.org. Follow the Orange County and Los Angeles campus on Twitter (@DiscoveryCubeOC and @DiscoveryCubeLA).
###