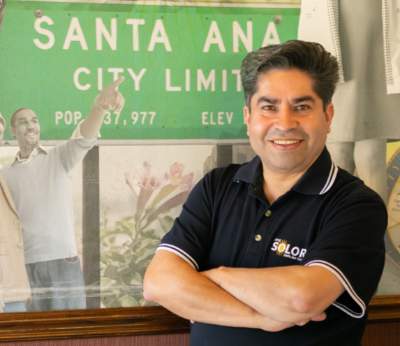 Santa Ana, CA – Below is a statement from City Council Member Jose Solorio regarding his "Yes" vote on The Addington Residential Apartment Community (2525 N. Main Street, Santa Ana):
"When I walked through Park Santiago and spoke with residents, nearly all of them told me that they are tremendously concerned about the homelessness crisis, especially considering their proximity to Santiago Creek. While some of them mentioned their concerns about the traffic impacts of The Addington project, the homelessness issue is a much greater concern. Given their priorities and the clear need for more housing in Southern California, I voted 'Yes' on The Addington.

City traffic studies confirmed that The Addington will generate significantly less traffic than the alternatives and the developer has agreed to fund a 24/7 neighborhood security patrol program and a security fence where it's needed under the concrete bridge overpasses in Santiago Creek. The housing project was downsized by almost half, now comprising 256 units instead of the originally proposed 496 units. With the project approval, there will also be funding for the development of about 30 new affordable units in Santa Ana.
We were able to reduce the number of residential units without hurting the financial viability of the project because the Discovery Cube received state funding which is allowing them to partner with The Addington on much needed parking. On top of that, over $1.4 million in improvements to Santiago Park will be realized because of this development. You can click this link for a complete copy of the staff report: http://bit.ly/TheAddington.
Despite these concessions and benefits to the City at large, a group of Park Santiago residents still prefers that the apartment project not be built next to them, but somewhere else in the city. Given the parking, housing, and homelessness problems citywide, this attitude is unfair to the rest of the neighborhoods in Santa Ana.
While this group continues to target me and my campaign for Mayor, I will continue to uphold my Oath of Office to represent all the residents in Santa Ana. We must treat all neighborhoods equally and continue taking action to address our homelessness problems citywide."