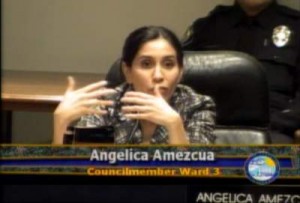 We reviewed Santa Ana Councilman David Benavides' official city calendar, for the month of June, 2013, yesterday.  Today we are taking a look at Council Woman Angelica "Angie" Amezcua's city calendar – and boy is it empty.  Amezcua represents Ward 3 on the City Council.
While Benavides has spent 90% of his time outside of his Ward, Amezcua has done almost nothing in her own Ward.
Let's have a look at Angie's calendar (note that I did not include the City Council meetings as she has to attend those):
On June 1, a Saturday, she attended a Health and Fitness Fair that I believe was held at

Rosita Park

, which is located near  Newhope and Hazard – on the border of Ward 3 and Ward 5, which is represented by Councilman Roman Reyna
She attended a joint meeting with the SAUSD on June 10
She met with the City's head hunter on June 12 – probably to discuss the so far failed search for a new City Manager
She attended the Mayor's State of the City Address on June 19 – which is usually held at the Bowers, which is in Ward 3
She visited with a representative of the Match Point Tennis Academy on June 25.  That organization is located in Ward 1 – they are at Cabrillo Park.  Ward 1 is represented by Vincent Sarmiento.
And like Benavides and Michele Martinez, Angie flew to Chicago to go to the NALEO (National Association of Latino Eelcted Officials) Conference from June 26 to June 30.  I am told the city spent thousands of dollars paying for fine meals at gourmet restaurants, airplane flights, and of course swanky hotel rooms.  Nice.
That's it folks.  That is all Angie did in June as a representative of Ward 3.  Pathetic.  Remember that she was a stunt candidate who spent no money on her campaign.  I guess you get what you pay for.
We should note that neither Amezcua nor Benavides attended any neighborhood association meetings in June.