Three teenagers are among eight suspects arrested in connection with a violent melee that followed the U.S. Open surf contest in Huntington Beach, police announced Monday, according to NBC News.  those arrested included men from Anaheim and Santa Ana.  here is the list of the men arrested and the charges they are facing, courtesy of the Huntington Beach Police Department: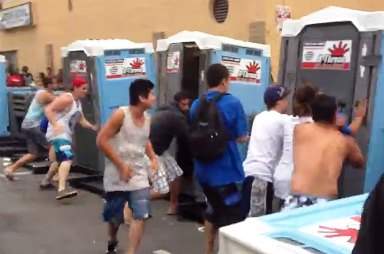 Michael John LYTLE – Anaheim 30 years old – Fullerton Firefighter! – Disorderly Conduct and Resisting Arrest
Andres GOMEZ – Huntington Beach 24 years old – Refuse to Disperse and Resisting Arrest
Michael Anthony AVILA – Santa Ana 28 years old – Resisting or Delaying a Police Officer
Joseph MONTERROSA – Ontario 28 years old – Disorderly Conduct and Resisting Arrest
Adam A CECOT – Irvine 18 years old – Refuse to Disperse/Unlawful Assembly
Chase Scott CHRISTMAN – Simi Valley 19 years old – Vandalism (over $400), Urge Destruction of Property, Refuse to Disperse/Unlawful Assembly
Kyle Roger CROTT – Riverside 18 years old – Assault with a Deadly Weapon on a Police Officer, Resisting Arrest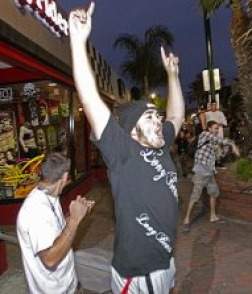 This pictured suspect remains unidentified. If you recognize this suspect please call the Huntington Beach Police Department's hotline at 714 375-5066 or email us at hbpdfiles@gmail.com.
Update: Christman is being arraigned today, according to the O.C. District Attorney, at Department W-1, West Justice Center, in Westminster.
The H.B. Police also reported that:
Suspect Illario Niko Johnson -18 year old from West Covina has been contacted by Huntington Beach Detectives and ELIMINATED as the pictured suspect. Johnson has been wrongly identified on many social media sites as the suspect who broke the window however these are not law enforcement media sites. Additional charges not related to the window smash are expected for Johnson, who has been identified as being involved in the disturbance but again he is not the suspect in the photograph.
On the date and time officers encountered a large crowd at Main and Pacific Coast Highway. The crowd had gathered at the conclusion of the Van's US Open of Surfing, an 8 day surf and skate event. A large fight broke out and when officers attempted to break up the disturbance the crowd moved into the downtown area. The crowds began fighting, damaging property and refused to disburse.
HBPD requested mutual aid from other agencies to help disperse the crowd. The area was declared an unlawful assembly and officers have moved in to deal with the crowd and make
At this time there have not been any serious injuries reported. We did have several officers who sustained minor injuries during the event and at least one citizen who was treated at the hospital and released after being struck with a rubber projectile fired by law enforcement.
We are currently looking at video and pictures via citizens and social media in an attempt to identify additional suspects involved in criminal activity during the disturbance. If you have any video or pictures they can be e-mailed to hbpdfiles@gmail.com. You can also call our hotline at 714 375-5066 with any information.