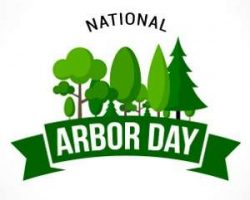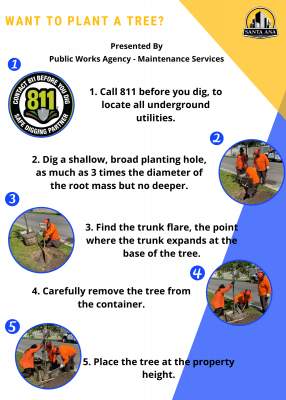 The City of Santa Ana has been proudly designated as a Tree City USA by the Arbor Day Foundation for 21 consecutive years for its dedication in maintaining the City's urban forest of 50,000 street trees.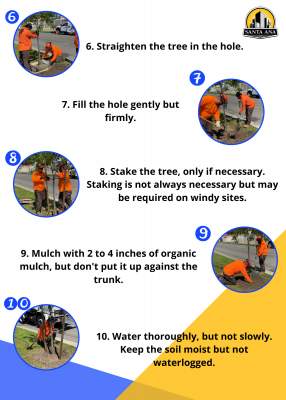 To celebrate National Arbor Day today, April 24, while staying safe at home, you can plant a tree by following these 10 steps:
1. Call 811 before you dig, to locate all underground utilities.
2. Dig a shallow, broad planting hole, as much as 3 times the diameter of the root mass but no deeper.
3. Find the trunk flare, the point where the trunk expands at the base of the tree.
4. Carefully remove the tree from the container.
5. Place the tree at the property height.
6. Straighten the tree hole.
7. Fill the hole gently but firmly.
8. Stake the tree, only if necessary. Staking is not always necessary but may be required on windy sites.
9. Mulch with 2 to 4 inches of organize mulch, but don't put it up against the trunk.
10. Water thoroughly, but not slowly. Keep the soil moist but not waterlogged.
The City spends over $4 million annually on its tree care programs that includes pruning, planting and providing arborist evaluations of all City street trees. A healthy urban forest contributes to our community in many ways, including adding value to your home and neighborhood, helping cool your home by reducing your energy costs and providing an overall positive community atmosphere.
For more information about the City of Santa Ana tree program, visit www.santa-ana.org/green/tree-program-tree-city-usa.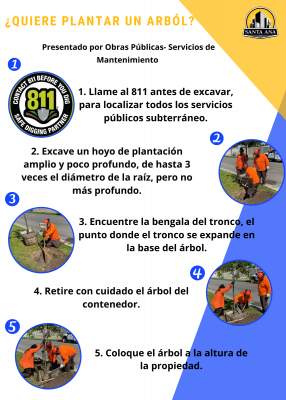 Celebre el Día del Árbol Hoy Plantando un Árbol
La Ciudad de Santa Ana ha sido orgullosamente designada como una Ciudad Arbolada USA (Tree City USA) por la Fundación Nacional de Arboles (National Arbor Day Foundation) durante 21 años consecutivos por su dedicación en el mantenimiento del bosque urbano de la ciudad, con 50,000 árboles de la calle.
Para celebrar el Día Nacional del Árbol hoy, el 24 de abril, y mientras usted se mantiene a salvo en casa, puede plantar un árbol siguiendo estos 10 pasos:
1. Llame al 811 antes de escarbar para localizar todos los servicios públicos subterráneos.
2. Escarbe un agujero de plantación poco profundo y amplio, hasta tres veces el diámetro de la masa radicular del árbol, pero no más profundo.
3. Encuentre la base del tronco del árbol, donde se expande
4. Retire cuidadosamente el árbol del contenedor.
5. Coloque el árbol a la altura de la propiedad.
6. Endereze el agujero del árbol.
7. Llene el agujero suavemente, pero firmemente.
8. Use estacas para el árbol, sólo si es necesario. Esto no siempre es necesaria, pero puede ser en sitios ventonosos.
9. Instale pajote, con 2 a 4 pulgadas de pajote organizado, pero no lo ponga contra el tronco.
10. Riegue suficientemente, pero no lentamente. Mantenga el suelo húmedo pero no anegado.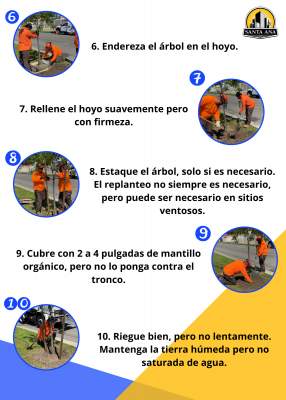 La ciudad dedica más de $4 millones anuales en sus programas de cuidado de árboles que incluye poda de árboles, plantación y proporcionar evaluaciones arboristas de los árboles de la calle de la ciudad. Un bosque urbano saludable contribuye a nuestra comunidad de muchas maneras, incluyendo agregar valor a su hogar y vecindario, ayudar a enfriar su hogar al reducir sus costos de energía y proporcionar un ambiente positivo de la comunidad.
Para obtener más información sobre el programa de árboles de la ciudad de Santa Ana, visite https://www.santa-ana.org/green/tree-program-tree-city-usa.