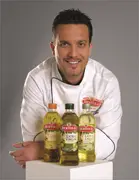 OLIVE CREST WELCOMES BRAVO TV'S TOP CHEF STAR FABIO VIVIANI TO ITS HIGHLY ANTICIPATED SPRING FUNDRAISER AND GOURMET-FOOD TASTING, HARVESTING HOPE FOR THE OLIVE CREST KIDS ON SATURDAY, MARCH 19, 2011
Mike Donnelly, President of Ralphs Grocery Company, Returns as Honorary Chair while Debbie Ferrée, Vice Chairman and Chief Merchandising Officer of DSW Inc., and Christi Haley Stover, CEO, Platinum Resource Group, Serve as Event Co-Chairs, Along with Grocery Industry Committee Co-Chairs Mickie Sharp-Villanueva, Vice President / Warehouse Beverage, Hansen Beverage Company, and Chuck Balassa, Regional Business Manager, Nestlé Direct Store Delivery
Orange County philanthropists will enjoy the sweet smell—and taste—of fundraising success when they gather for an evening of gourmet food prepared by Top Chef star Fabio Viviani during the popular springtime fundraising event, Harvesting Hope for the Olive Crest Kids.
The fourth annual Harvesting Hope will be held on Saturday, March 19, 2011, 6:00 – 9:00 p.m., at Big Canyon Country Club in Newport Beach. The evening's centerpiece event will be a gourmet Chefs' Presentation, where Chef Fabio, a fan favorite on Bravo TV's Top Chef, will prepare one of his signature Italian specialties. In addition, the event's festivities will include gourmet culinary stations, ranging from a Bertolli Olive Oil-hosted station to a cupcake tasting table from Casey's Cupcakes; the chance to taste and savor fine wine with admission to a Premier tasting room, available for an additional charge; luxury-themed silent and live auctions; and music by DJ Trey Jarvis, who will also serve as auctioneer for the night.
Individual tickets for $195 (or individual tickets with Premier Tasting for $220) and sponsorships ranging from $1,000–$20,000 are now available at www.olivecrest.org/hhk. Sponsors already on board are: Ralphs Grocery Company as the Presenting Sponsor, DSW and Kylie Schuyler and Douglas Hodge and Family as Gourmand Sponsors, and Duane and Kelly Roberts as an Epicurean Sponsor. Other participating sponsors include Bertolli Olive Oil, Rutan & Tucker, LLC, Merrill Lynch, The Frome Family Foundation, Willis Insurance Services and Crevier BMW/Mini.
All proceeds will benefit Olive Crest's Project Independence, a transitional living program that provides safe and affordable housing, builds a support network and teaches essential life skills to foster youth, 15–24 years of age, to help them become independent and successful adults. Project Independence changes lives by providing a sense of family through counseling and mentors. One of the highlights of the Harvesting Hope evening will be a moving presentation by young people who have personally benefited from Project Independence.
"Harvesting Hope is a wonderful opportunity to enjoy a fantastic evening while doing truly great things for the young people served by Olive Crest," says Donald Verleur, CEO of Olive Crest. "Project Independence changes lives by providing a sense of family—and I'm happy to welcome all the extended members of the Olive Crest family to this celebratory event."
Last year's Harvesting Hope event raised more than $240,000 for Olive Crest. This year's event is expected to be just as successful under the guidance of honorary chair Mike Donnelly, President of Ralphs Grocery Company; event co-chairs Debbie Ferrée, Vice Chairman and Chief Merchandising Officer of DSW Inc. and Christi Haley Stover, CEO of Platinum Resource Group; and grocery industry committee co-chairs Mickie Sharp-Villanueva, Vice President/ Warehouse Beverage, Hansen Beverage Company; and Chuck Balassa, Regional Business Manager, Nestlé Direct Store Delivery.
Harvesting Hope for the Olive Crest Kids is made possible by the hard work of two volunteer committees who work hand-in-hand to bring the evening to fruition—the Event Committee and the Grocery Industry Committee. Event Committee members include: Darrel Anderson, retired, Knott-Anderson Enterprises; Mark Anderson, TrueNorth International; Tiffany Ashland, Trabuco Canyon philanthropist; Lorraine Bader, Seven Gables North; Steve Bernardy, Merrill Lynch; Dan Brussell, WCH Group; Paul Cannon, Goodrich, Thomas, Cannon & Reeds, LLP; Justis Cook Charay, Don & Sons; Pati Cinkle, Alar Staffing Corp.; Lawrence Henry, Union Bank; Nate Kuchera, Coast Capital Group; Jeff Mathews, Arden Limited Partnership; Mike Mattos, enCards; Marcy McKenna, Simply Solved Innovations; William Meehan, Rutan & Tucker, LLP; John Melbon, USI Insurance Services; Cindi Morales, Newport Beach philanthropist; Lisa Neal, Rutan & Tucker, LLP; Bill Neavel, T.D. Service Financial Corporation; Kelly Neavel, The Giardinelli Law Group, APC; Paul Nienow, NIENOW & TIERNEY, LLP; Glenn Nishibayashi, University of California, Los Angeles; Kylie Schuyler, Newport Beach philanthropist; Terri Sjodin, Sjodin Communications; Sarah Swee, AECOM; Leslie Wulff, Surfside community leader; and Jennifer Young, Platinum Resource Group.
The Grocery Industry Committee members are: Mary Armstrong, Fresh Dairy Direct; Allan Baum, Rowen Sales & Marketing LLC; Blake Buckley, Winery Exchange; Vic Chiono, Coca-Cola Refreshments; Paul Christianson, Christianson West, LLC; Bob Paul, ARSG Merchandising; Brianne Van Scotter, Hobert-Walters, Inc.; and Dave Van Winkle, The Performance Group.
Bravo TV's Top Chef All Stars Season 8 competitor and Top Chef Season 5 "Fan Favorite" Fabio Viviani is the owner of Café Firenze in Moorpark, California and Firenze Osteria in Toluca Lake, California. Born and raised in Florence, Italy, Chef Fabio has traveled across Europe and is trained in classic Italian and Mediterranean cuisine. He is the author of Café Firenze Cookbook, Mangia e Bevi, penned with business partner and best pal since the age of 12, Jacopo Falleni; his next cookbook, My Son is On Google, Recipes & Memories from an Italian Mom, is due out in the fall of 2012.
All Harvesting Hope guests will receive a specially designed DSW tote filled with gifts to remember the evening by, including copies of Chef Viviani's favorite recipes; a bottle of Bertolli Olive Oil; and a cornucopia of gourmet food and beverage items courtesy of the grocery industry sponsors.
Individuals and companies who would like to participate as sponsors or donors can contact Olive Crest's Tina Fuertes at 714-543-5437 ext. 1184 or tina-fuertes@olivecrest.org.
###
Media Contacts
Alison Hill 714.444.9731, ext. 201, alison@currentpr.com
About Olive Crest
Since 1973, Olive Crest has transformed the lives of over 50,000 abused, neglected, and at-risk children and their families. We work tirelessly to meet the individual needs of kids in crisis by providing safe homes, counseling, and education for both youth and parents. Our many innovative programs reflect our conviction that strengthening the family is one of the most powerful ways to help heal children. With unwavering compassion, the Olive Crest family maintains a lifelong commitment to the youth and families we serve even after they have graduated from our programs.
Olive Crest serves nearly 1,000 children and families each day throughout California, Nevada, and the Pacific Northwest. For information call 1-800-550-CHILD (2445) or visit www.olivecrest.org.