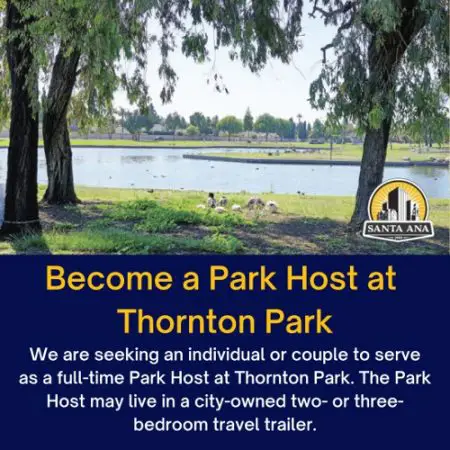 The Santa Ana Parks, Recreation, and Community Services Agency is seeking an individual or couple to serve as a full-time Park Host at Thornton Park.
The primary role of a Park Host is to have a visible presence in the park and serve as the park ambassador for the surrounding community.
This is an unpaid position, however the Park Host may live in a City-owned two- or three-bedroom travel trailer with utility hookups and service at no cost.
The Park Host is required to live on site year round to provide excellent customer service to visitors and give information on park facilities, resources, park rules and attractions. 
Thornton Park is located at 1801 W. Segerstrom Ave. This 32.83-acre multi-use park encompasses a lake, passive play areas, tot lot, barrier free playground, walking trails, and athletic fields. General Park hours of operation are 5:00am to 11:00pm, 7 days a week. Athletic fields use and special events at the parks require a reservation.
Submit applications to Rudy Hernandez –rhernandez5@santa-ana.org or City of Santa Ana – Parks, Recreation and Community Services Agency Attn: Park Host Program 20 Civic Center Dr., Santa Ana, CA 92701. For questions or additional information, please call 714-571-4229.