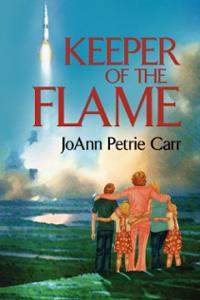 City of Santa Ana, Downtown Orange County Community Alert: Santa Ana Public Library Welcomes Author: JoAnn Petrie Carr
SANTA ANA, CA – The Santa Ana Public Library is pleased to present author JoAnn Petrie Carr for a discussion of her book Keeper of the Flame. Carr's novel, is a fictionalized account of the answer to the perennial question "what was it like being married to an Apollo astronaut", rich with her experience of what life was like as an insider in the heyday of the space program.
In the 1960's, NASA's race to the moon incorporated a series of Earth-orbital flights as well as actual moon orbital and landing missions known as the Apollo program. While Apollo One took the lives of three astronauts, six of the missions achieved the lunar goal beginning with the first landing on the moon in 1969. While all of the astronauts have received much acclaim, there is little known about their wives – the Women of Apollo who watched as their husbands hurtled through space, gazed at the moon differently than other women and prayed that their men would return home after a safe landing and that their normal lives would return.
During her life as the wife of astronaut Gerald Carr, JoAnn Carr raised six children (including two sets of twins) amidst the backdrop of the Gemini, Apollo and Skylab programs. She completed her Doctor of Jurisprudence at the University of Houston in 1978 with all six children still at home, then divorced and practiced law for 30 years. She was a sole practitioner, general counsel for the FDIC and held a "retirement job" as in-house counsel for Star Station One, a 501c3 devoted to space education for children. There she developed a prototype for a distance learning science module for third graders. She then spent another year at FDIC when she was called back to help address the recent banking crisis.
The event is open to the public at the Santa Ana Public Library's Meeting Room A on April 25th, 2013 at 6:30pm. Admission is free.
THE SANTA ANA PUBLIC LIBRARY IS LOCATED AT:
26 CIVIC CENTER PLAZA (corner of Civic Center and Ross)