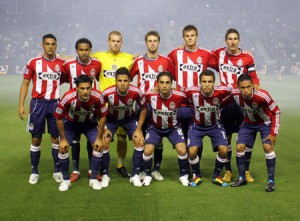 Chivas USA Returns to Market in the Santa Ana Area
And just on the heels of the Galaxy's marketing efforts in Santa Ana, Chivas USA returns to the Santa Ana area to market this weekend's game against the San Jose Earthquakes.
Edgar Mejía, who is on loan this season from Chivas de Guadalajara, and Anaheim native Carlos Borja will be in person at the Super A's restaurant at 2949 Fairview Rd in Costa Mesa this Thursday April, 25th. The players will be there from 6 to 7:30 pm signing autographs, handing out jerseys, and giving out tickets to this weekend's game to the first 50 people in attendance.
Chivas USA has done a number of outreach efforts in the past in Santa Ana proper and the surrounding area. They marketed last year at MainPlace mall with a soccer clinic for kids and at Centennial Park in a 4 versus 4 soccer event called the Battle of LA.
Click here to read the rest of this article.