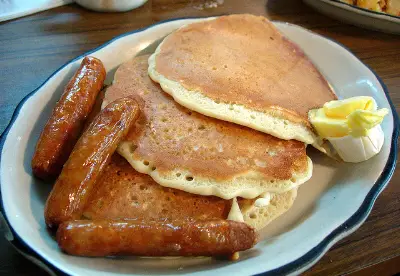 Northeast Santa Ana's Little League (NESALL) is hosting their Annual Pancake Breakfast fundraiser this Sunday, April 28, from 8 am to 11 am, at the NESALL fields, located next to Sierra Intermediate School, at 2100 N. Grand Ave., in Santa Ana, just north of 17th St.
For only $4 you can enjoy delicious freshly made pancakes and savory sausage, cooked by NESALL's parents and volunteers.  Bring your neighbors, friends and family!  It is always a great time.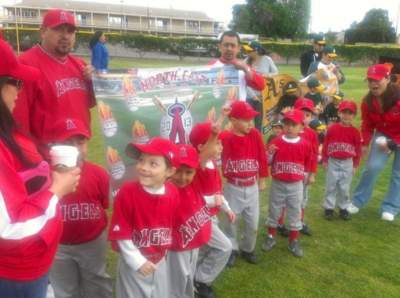 You will also be able to buy raffle tickets for a brand new Chevy automobile and for homemade MLB blankets.
Show your support for our Little League families!
In related news…
Seeking Candidates for the 2014 NESALL Board of Directors
Have you ever thought you'd like to make a difference in children's lives? Would you like to help shape the future of Northeast Santa Ana Little League? This is your opportunity! We are seeking motivated individuals who want to commit to being active team members of the 2014 NESALL Board of Directors. We are seeking candidates with:
a basic knowledge of Little League Baseball, however, no prior experience is required;

 

the ability to promote the general values of little league baseball, good sportsmanship, and represent the league to the community in a good light;

an open mind, who are fair, objective, and concerned with the wellbeing of the children of NESALL;

the willingness and ability to commit to up to six hours per week to the league, including attendance at league meetings and functions;

the ability to present the position of the Board of Directors even when they have a dissenting opinion;

the ability to obtain a basic background clearance.
Interested candidates should submit their names to the snack bar or via email to nesallvp@gmail.com no later than Saturday April 27, 2013. The general election will be held beginning on Sunday April 28, 2013 during the pancake breakfast and end Saturday May 11, 2013 Selections will be announced at closing ceremonies on June 8, 2013.
Help shape the future of NESALL and make the league one of the best in Orange County!!! If you have any questions contact the league at (714) 542-1066 or nesallvp@gmail.com and a board member will get back to you.