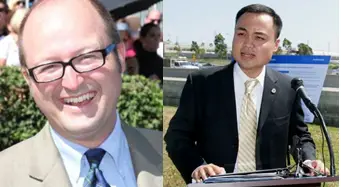 There are now four Republicans running for the 72nd Assembly District, which includes part of Santa Ana.  The Republican candidates include Huntington Beach Council Member Matt Harper (Supervisor Janet Nguyen's former Chief of Staff); Westminster Mayor Pro Tem Tyler Diep; OC Board of Education Trustee Long Pham and Huntington Beach Mayor Joe Carchio.
All of them will be appearing at the next meeting of the Fountain Valley Republican Assembly on Nov. 17.  Here are the details:
For immediate release: October 25, 2011
Contact: John W Briscoe: 714-791-6003, jwb@fvcpa.net
Fountain Valley Republican Assembly to host 72nd Republican Assembly Candidates
The Fountain Valley Republican Assembly has invited all of the prospective Republican candidates for the 72nd assembly district to their meeting. Huntington Beach councilman Matthew Harper and Westminster councilman Tyler Diep have accepted .
The meeting will be held Thursday evening, November 17th at 7:00pm at Carrow's Restaurant. Carrow's Restaurant is
located at Warner and Magnolia in Huntington Beach. The event is open to the public.
The 72nd District includes the following cities: Los Alamitos, Seal Beach, Garden Grove, Westminster, Fountain Valley, Huntington Beach and Santa Ana.
Chartered in 1934, the California Republican Assembly (CRA) is the oldest and largest Republican volunteer organization in California. The CRA works to elect Republican candidates who stand unwaiveringly for republican principles. President Ronald Reagan called the CRA, "the conscience of the Republican Party."
John W. Briscoe, President, CRA District Director
Dennis Catron, Vice President, Past CRA President
David Pruyne, Secretary
Jeff Clitheroe, Treasurer
Jeanne Galindo, Director at Large
Fountain Valley Republican Assembly
PO Box 9973, Fountain Valley, CA 92728