Four people died in a horrific traffic accident early this morning in Santa Ana when Vincent Michael Calvo, a 28-year-old Buena Park man, allegdly sped through a red light and struck another vehicle, in what police suspect was a DUI crash.
On Sunday February 17th, 2019 at 0229 hours, SAPD Officers were dispatched Code 3 (lights and sirens) to the area of ‪4th Street‬ and Tustin Avenue for a reported two vehicle traffic collision with both vehicles being overturned. The vehicles were found in the eastbound lanes of 4th west of Tustin.
A calling party reported the occupants in a white Chevy Silverado were trapped and the vehicle was catching fire. An off-duty firefighter and his wife, an off-duty nurse, were passing by and stopped to render aid. Officers arrived on scene and found the occupants of the white truck unresponsive and trapped inside the vehicle. The driver of the black Jeep Wrangler was found lying in the roadway adjacent to the vehicle and was able speak to officers, according to the SAPD.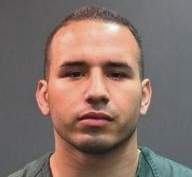 Orange County Fire Authority (OCFA) personnel responded and determined all four occupants of the white truck were deceased as a result of the collision. The 28-year-old driver of the black Jeep, identified as Vincent Michael Calvo of Buena Park, appeared to be extremely impaired at the scene. He was transported to a local hospital for minor injuries before being later released and arrested for suspicion of DUI. He faces four counts of murder as well as felony DUI.
The Santa Ana Police Department's Collision Investigations Unit (CIU) responded to the collision and handled the investigation. Investigators have secured surveillance video, which shows the black Jeep traveling westbound on ‪4th Street‬ and the white Chevrolet pickup truck traveling southbound on Tustin when the Jeep fails to stop for the red signal light before entering the intersection and broadsiding the truck. The investigation is on-going and anyone possibly having any information regarding this collision is asked to contact Collision Investigator – Corporal ‪Brett Nelson‬ at ‪(714) 245-8208‬.