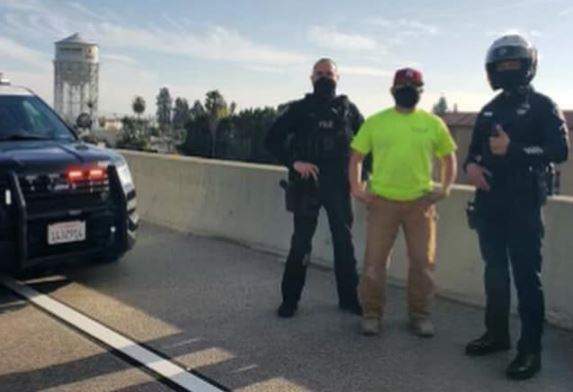 SAPD dispatch received several calls of a male adult on the freeway ledge of the 17th Street & I-5 freeway overpass. As SAPD officers were responding, a Good Samaritan who observed what was happening ran to help the jumper.
The Good Samaritan began talking to the jumper, who was standing on the ledge. When the jumper turned around to jump, the Good Samaritan grabbed him and held onto to him until Santa Ana PD officers arrived. Together they helped bring him over the ledge.
Hopefully the happy ending in the story above prevailed. One of our readers alerted us that he was stuck in traffic on the 5 Freeway at around 9 p.m. last night and as the CHP officers let the motorists pass there was a dead body visible and no sign of a car accident.
These are very difficult times for our residents with the ongoing pandemic, the lack of work and bills piling up. If you or someone you are close to is in need of a consultation with a specialist please call the Orange County Crisis Prevention Hotline at (800) 273-8255. English and Spanish speaking counselors are available. Korean counselors are also available 8 hours a day at (877) 7-CRISIS or (877) 727-4747 with the availability to transfer to a Multilanguage Line (interpretation of other languages is available upon request).