Connect to Council is hosting a 2016 Primary Election Candidates Forum at Santa Ana College on Thursday, April 14, from 5:30 p.m. to 8:30 p.m.
The first panel will feature 1st District Orange County Board of Supervisor candidates and the second panel will include
the 46th District U.S. Congressional Representative candidates.

The organizers of the forum include Connect-to-Council, Santa Ana Chamber of Commerce, Garden Grove Chamber of Commerce, Fountain Valley Chamber of Commerce, Anaheim Chamber of Commerce, Vietnamese American Chamber of
Commerce and Santa Ana College. Potential candidate questions from the public can be sent to: connect-to-council@earthlink.net.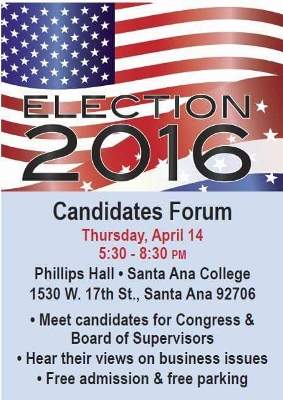 The event will take place at Santa Ana College's Phillips Hall. The college is located at 1530 W. 17th St., in Santa Ana.  Admission and parking are free.
Regarding the June 2016 Primary Election: The Orange County Registrar of Voters will begin sending out sample ballots on April 28 and Vote-by-Mail ballots will go out on May 9.