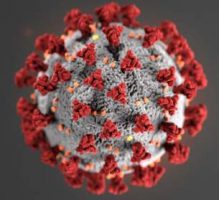 COVID-19 cases have zoomed up to 187 in Orange County, according to the O.C. Health Care Agency. The good news is that they are now saying that they will soon reveal how many patients there are in specific cities here in Orange County. Reportedly there are 22 victims in Irvine alone.
One of those victims may include U.S. Representative Katie Porter, a former UCI Professor who represents the greater Irvine area. She posted this message on her Facebook page today:
When I was elected, I committed to being transparent and accountable. I have kept that promise throughout my time in Congress.
Last week, I developed cold-like symptoms followed by fatigue. I stayed home and spoke to my healthcare provider.
Over the weekend, I had a fever over 100.4 so, as instructed, I continued to isolate in my bedroom and phoned my provider. I carefully followed all instructions to visit my doctor and received a test for COVID-19. I am waiting for results.

I will remain in self-quarantine until I have the rest results back and until directed by my doctor that it is safe for me to leave my home. I am participating by telephone in Congressional business and listening to the concerns of our Orange County community.

P.S. My children are so far healthy and handling things well.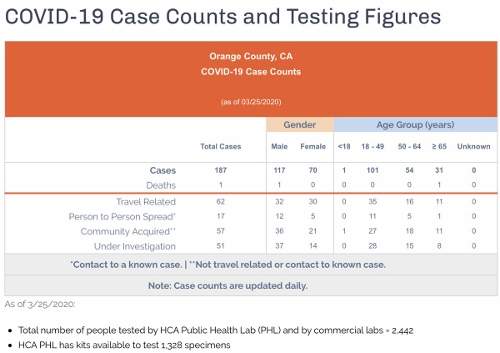 The majority of Orange County's cases are in the 18-49 age group with 101 victims so far.
As of March 24, 2020, 2 p.m. Pacific Daylight Time, there are a total of 2,535 positive cases and 53 deaths in California (including one non-California resident), according to the State of California Public Health Department. Community-acquired cases have accounted for 707 of these victims, this includes 35 health care workers.
Key points to consider:
If you are showing symptoms of illness such as fever, cough, or shortness of breath, and work in an essential function – you should self-quarantine at home until you are free of symptoms for 72 hours
If you are showing symptoms of illness and are already self-quarantining, try to avoid going outside until you are free of symptoms for 72 hours
If your symptoms get worse instead of better call your doctor
People with mild symptoms do not need to be tested for COVID-19
Medical questions – Call the O.C. Health Referral Line (HRL) daily from 9 a.m. to 6 p.m. at 1(800) 564-8448.
Non-medical questions – Call the Emergency Operations Center (EOC) Public Information Hotline at (714) 628-7085.