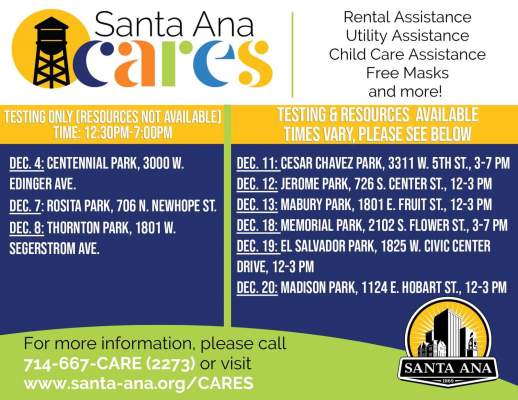 The Santa Ana CARES program ends this month, as the City is required to spend all of the federal CARES funds.
Today there is free testing from 12:30 p.m. to 7 p.m. in Centennial Park, 3000 W. Edinger Ave.
Dec. 20 is the last day of free testing from the City. See all of the testing dates and locations at www.santa-ana.org/covid19/free-covid-19-testing-santa-ana-residents.
FREE AT-HOME TESTS
Santa Ana and Anaheim residents can also order free at-home, saliva-based COVID-19 tests from the OC Health Care Agency. On Monday, those tests will become available countywide.
Order a test at https://oc.care.ambrygen.com/
FREE ISOLATION ASSISTANCE
If you test positive and need to quarantine away from your family, the City still offers isolation assistance with two weeks in a hotel.
Learn more at www.santa-ana.org/CARES.
FREE NURSE LINE
Have health questions about COVID-19? Call the free nurse advice line for Santa Ana residents at (800) 589-8776.