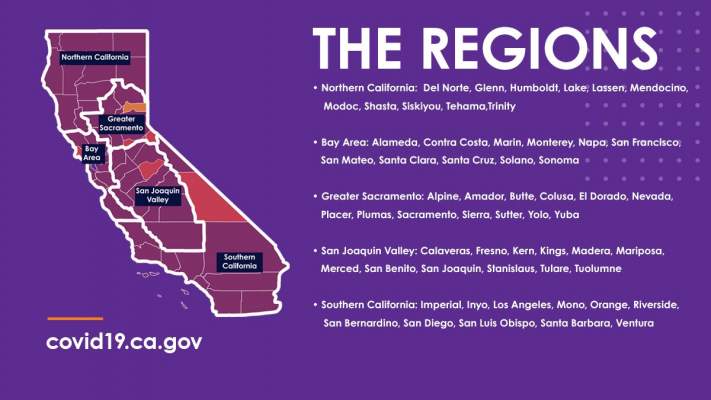 Santa Ana and Orange County are not currently in a Stay Home order, but that could change soon if the Intensive Care Unit (ICU) bed capacity in the region continues to decline.
Gov. Gavin Newsom on Thursday announced a Regional Stay Home Order that will go into effect within 24 hours in regions that reach less than 15% ICU bed availability. It prohibits private gatherings of any size, closes sector operations except for critical infrastructure and retail, and requires 100% masking and physical distancing in all others.
Orange County is grouped with 10 other counties in the Southern California Region for determining the ICU status and Stay Home Order.
Orange County's ICU was at 17% availability as of Thursday; however, other counties are lower, which could cause a Stay Home Order for Southern California. It would last a minimum of three weeks.
The further restrictions include no outdoor dining, no gatherings, retail capacity reduced to 20% and closing of personal service businesses. Outdoor activities would still permitted when observing social distancing, but activities like the Santa Ana Zoo would be closed.
Masks are required statewide when around others outside of the home.
For more information from the State, please visit https://covid19.ca.gov/.
For more COVID-19 resources, including free testing for Santa Ana residents, visit www.santa-ana.org/CARES.
Actualización Sobre la Orden del Gobernador de Quedarse en Casa
Santa Ana y el Condado de Orange no están actualmente en una orden de quedarse en casa, pero eso podría cambiar pronto si la capacidad de camas de la Unidad de Cuidados Intensivos (UCI) en la región continúa disminuyendo.
El Gobernador Gavin Newsom anunció el jueves una orden de quedarse en casa regional que entrará en vigencia dentro de las 24 horas en las regiones que alcanzan menos del 15% de disponibilidad de camas en la UCI. Prohíbe las reuniones privadas de cualquier tamaño, cierra las operaciones del sector excepto las de infraestructura crítica y el comercio minorista, y requiere un 100% de enmascaramiento y distanciamiento físico en todos los demás.
El Condado de Orange está agrupado con otros 10 condados de la región del Sur de California para determinar el estado de la UCI y la orden de quedarse en casa.
La UCI del Condado de Orange tenía un 17% de disponibilidad hasta el jueves; sin embargo, el nivel de otros condados está más bajo, lo que podría resultar en una orden to quedarse en casa para el Sur de California. Duraría un mínimo de tres semanas.
Las restricciones adicionales incluyen no comer al aire libre, no reunirse, capacidad minorista reducida al 20% y cierre de negocios de servicios personales. Las actividades al aire libre aún se permitirían cuando se observe el distanciamiento social, pero las actividades como el Zoológico de Santa Ana estarían cerradas.
Se requieren mascarillas en todo el estado cuando uno está cerca de otras personas fuera de la casa.
Para obtener más información del Estado, visite https://covid19.ca.gov/.
Para obtener más recursos de COVID-19, incluidas las pruebas gratis para los residentes de Santa Ana, visite www.santa-ana.org/CARES.