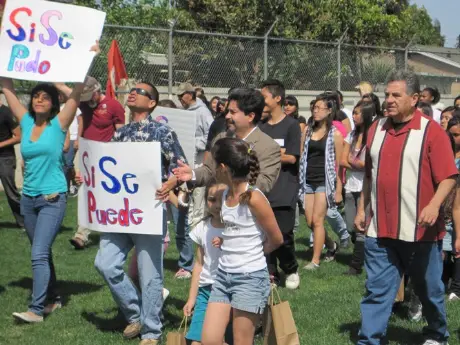 12th Annual Cesar E. Chavez State Holiday Celebration
Please join Assemblyman Jose Solorio, Santa Ana Councilmember Vince Sarmiento, SOLEVAR Executive Director Seferino Garcia, and community leaders to celebrate the life and legacy of Cesar E. Chavez.
The event will kickoff with a "¡Si Se Puede! – Yes We Can!" march and rally. There will be fun family activities, work in the "CommUnity Garden," and an opportunity to hear Maria Elena Chavez, niece of Cesar Chavez, share some inspirational words.
Saturday, March 31, 2012
March and Rally: 12:00 p.m.
Celebration Activities: 12:30 p.m. – 3:00 p.m.
Jerome Park
2115 W. McFadden Avenue
Santa Ana
To RSVP or for more information, please contact Lorraine Lazarine-McCarty at (714) 939-8469 or by email
at Lorraine.Lazarine-McCarty@asm.ca.gov.
Event Sponsors:
*City of Santa Ana *Chevron *De La Rosa & Co. *SA Recycling
*State Farm *Susy Party Rentals *Wells Fargo *Time Warner Cable