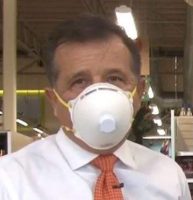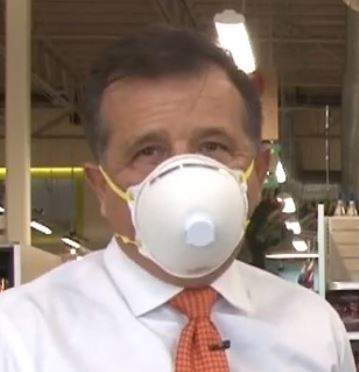 The City of Santa Ana is pleased to announce that beginning July 7, 2020, the Santa Ana City Council will allow in-person public commentary during Council meetings. The public no longer will be able to make comments by phone during Council meetings.
As we slowly begin to lift restrictions in response to the COVID-19 pandemic, the public is advised of the following:
Public comments will be held during the beginning of the meeting for ALL comments on agenda and non-agenda items, except for public hearings. Comments for public hearings will take place after the hearing is opened. This is being done to respect the time constraints of residents who cannot stay late into the evening to comment on items that they feel strongly about.
Individuals who would like to comment on an agenda item or make a general comment regarding a topic not in the meeting's agenda may do so by filling out a comment card with staff prior to this time segment in the meeting and entering the Chamber when instructed.
The public is advised that the general seating area within the Chamber will NOT be made available in order to maintain social distancing and reduce the possibility of COVID-19 transmission. Seating with social distancing will be available outside the Council Chamber for members of the public to await their turn to speak.
All City employees and members of the public that attend public meetings MUST wear a mask or face covering and maintain a physical distance of 6 feet from persons who are not members of the same household when inside the Chamber. Individuals who do not want to wear a mask or face covering or attend in person are invited to provide their comments via email instead to ecomment@santa-ana.org. Additional safety measures, such as hand sanitizer and disinfecting wipes, will be made available.
Members of the public who have tested positive for COVID-19, are displaying symptoms of the illness, or are immunocompromised and at a higher risk if exposed SHOULD NOT attend City Council meetings in person. If you are not sure if this applies to you, please refer to the Centers for Disease Control and Prevention's website: www.cdc.gov/coronavirus.
All members of the public are encouraged to watch the meeting via three remote options:
• The City's website at www.santa-ana.org/cc/city-meetings
• The City's YouTube channel at www.youtube.com/cityofsantaanavideos/live
• The City's television channel CTV3, available on Spectrum channel 3 and AT&T U-verse channel 99
For more information on City Council meetings, visit www.santa-ana.org/cc/city-meetings.
The City of Santa Ana thanks residents for their ongoing patience and flexibility as we continue to balance safety and public participation.
El Concejo Municipal de Santa Ana Reanudará Comentarios Públicos En Persona para la Junta del 7 de Julio
La Ciudad de Santa Ana se complace en anunciar que a partir del 7 de julio de 2020 el Concejo Municipal permitirá comentarios públicos en persona durante las juntas del Concejo. El público ya no podrá hacer comentarios por teléfono durante las juntas del Concejo.
A medida que comenzamos a levantar las restricciones en respuesta a la pandemia de COVID-19 lentamente, se le informa al público lo siguiente:
Los comentarios públicos se llevarán a cabo al comienzo de la junta para TODOS los comentarios sobre temas de la agenda y no relacionados con la agenda, con la excepción de las audiencias públicas. Comentarios para audiencias públicas tomarán lugar después de que se abra la audiencia. Esto se hace para respetar las limitaciones de tiempo de los residentes que no pueden quedarse tarde para comentar sobre los temas que les interesan.
Las personas que deseen comentar sobre un tema de la agenda o hacer un comentario general sobre un tema que no está en la agenda de la junta pueden hacerlo completando una tarjeta de comentarios con el personal antes de este segmento en la junta e ingresando a la Cámara cuando se les indique.
El área general de asientos dentro de la cámara NO estará disponible para mantener el distanciamiento social y reducir la posibilidad de transmisión de COVID-19. Habrá asientos con distanciamiento social disponibles fuera de la Cámara del Concejo para que los miembros del público esperen su turno para hablar.
Todos los empleados de la Ciudad y los miembros del público que asisten a estas reuniones públicas DEBEN usar una máscara o cubierta facial y mantener una distancia física de seis (6) pies de las personas que no son miembros del mismo hogar cuando están dentro de la Cámara del Concejo. Las personas que no quieren usar una máscara o cubierta facial o asistir en persona están invitados a enviar sus comentarios por correo electrónico a ecomment@santa-ana.org. Se dispondrá de medidas de seguridad adicionales como desinfectante para manos y toallitas desinfectantes.
Miembros del público que resultaron positivos para COVID-19, muestren síntomas de la enfermedad o estén inmunocomprometidos y tengan un mayor riesgo si están expuestos NO DEBERÍAN asistir a las juntas del Concejo Municipal en persona. Si no está seguro si esto se aplica a usted consulte el sitio web de los Centros para el Control y la Prevención de Enfermedades (CDC): www.cdc.gov/coronavirus.
Se alienta a todos los miembros del público a ver la reunión a través de tres opciones remotas:
• El sitio web de la Ciudad – www.santa-ana.org/cc/city-meetings
• El canal de YouTube de la Ciudad – www.youtube.com/cityofsantaanavideos/live
• El canal de television de la Ciudad CTV3, disponible en el canal 3 de Spectrum y canal 99 de AT&T U-verse
Para más información sobre juntas del Concejo Municipal visite www.santa-ana.org/cc/city-meetings.
La Ciudad de Santa Ana agradece a los residentes por su paciencia y flexibilidad continuas mientras continuamos equilibrando la seguridad y la participación pública.