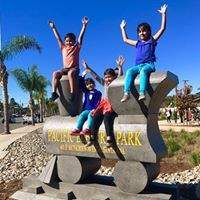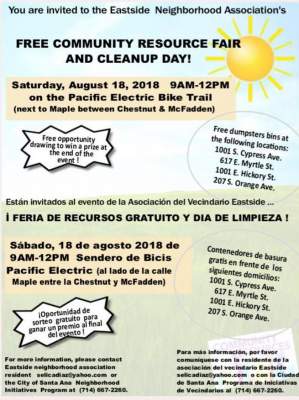 You are invited to the Eastside Neighborhood Association's Community Resource Fair and Cleanup Day
LOCATION: the Pacific Electric Bike Trail (next to Maple between Chestnut & McFadden)
Isn't it time for Santa Ana to have a voice on the O.C. Board of Supervisors?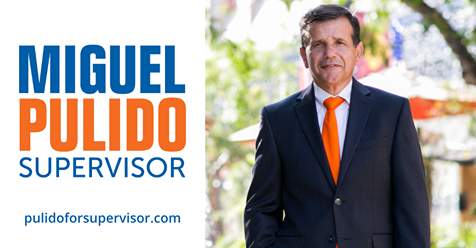 Paid for by Miguel A. Pulido for Supervisor 2020 (ID #1422663)
DATE: Saturday, August 18, 2018
TIME: 9 am – 12 pm
Did you slip and fall? Find out what your rights are and get a free consultation. Call 888-222-8999. Saslawgroup.com https://www.facebook.com/SasoonessLawGroup/
Free dumpsters bins at the following locations:
For more information, please contact Eastside neighborhood association resident selicadiaz@yahoo.com or the City of Santa Ana Neighborhood Initiatives Program
Están invitados al evento de la Asociación del Vecindario Eastside …
İ FERIA DE RECURSOS GRATUITO Y DIA DE LIMPIEZA
Sábado, 18 de agosto 2018
9AM-12PM
Sendero de Bicis Pacific Electric (al lado de la calle Maple entre la Chestnut y McFadden)
Contenedores de basura gratis en frente de los siguientes domicilios:
1001 S. Cypress Ave.
617 E. Myrtle St.
1001 E. Hickory St.
207 S. Orange Ave.
Para más información, por favor comuníquese con la residente de la asociación del vecindario Eastside selicadiaz@yahoo.com o con la Ciudad de Santa Ana Programa de Iniciativas de Vecindarios al (714) 667-2260.