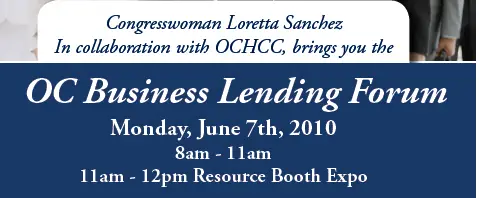 OC Business Lending Forum Monday, June 7th, 2010 8am – 11am and 11am – 12pm
Resource Booth Expo Located at Chapman University Beckman Hall, Room 404 Limited Space.  Please RSVP with Maria Monter by phone (714) 953-4289 or email mmonter@hcoc.org.  
Please join us for a FREE Forum and Panel Discussion for Orange County small businesses, commercial lenders, and regulators to discuss the challenges that many business owners face in qualifying for new or additional credit to help grow their businesses. Refer to the attached FLYER for additional information.