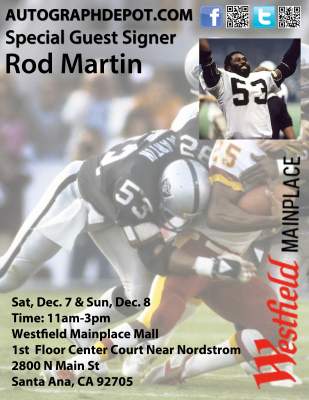 Rod Martin, Raiders the 2X Super Bowl Champion and USC Trojan, will be signing autographs this weekend, Sat and Sun Dec. 7 & 8, from 11 am to 3 pm at the Westfield MainPlace Mall in Santa Ana.
This is a great opportunity for Santa Ana residents to meet and greet this NFL Great!
Former USC LB Rod Martin had his moment in the sun at Super Bowl XV when he picked off three passes to secure the championship for the Oakland Raiders, according to USC.
Martin still holds the record for most interceptions in one Super Bowl, but amazingly, he was not named the game's MVP.  Nevertheless, he has nothing but fond memories of that night in New Orleans.
"I had so many emotions going on that it really didn't bother me," Martin told Jeffri Chadiha about not winning the award.  "I was having too much fun [after the game.]"
Interestingly, Martin only got his shot with the Raiders thanks to a recommendation from USC head coach John Robinson who advised Raiders head coach John Madden to consider the instinctive linebacker with a late round draft pick.  Martin would end up winning two Super Bowls in Oakland.
The Westfield Mainplace Mall is located at 2800 N Main St, in Santa Ana.