Isn't it time for Santa Ana to have a voice on the O.C. Board of Supervisors?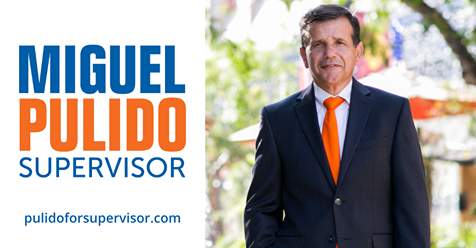 Paid for by Miguel A. Pulido for Supervisor 2020 (ID #1422663)
Fullerton residents are in shock today as they deal with the fact that Assemblyman Chris Norby now needs a job, having lost to Fullerton Mayor Sharon Quirk-Silva. She ran an aggressive campaign and made heavy use of social media. Norby, on the other hand, seemed to be trying to coast to victory.
While Quirk-Silva's victory is a great one for Orange County's Latino voters, I am saddened to see that the 69th Assembly District is now represented by Tom Daly. There is no way he will win re-election in two years, but for now we are stuck with him.
Advertisements
Advertisement
The Two Essential Aspects to Every Personal Injury Case: Liability & Damages
If you've been injured and you're not sure you have a case, give us a call 323 746-8099. Our team at Sasooness Law Group will give your case the personal attention it deserves. We work with motorcycle accidents, car accidents, uber/lyft accidents, scooter accidents, and more.
Si usted ha sido lastimado y no está seguro de tener un caso, llamenos al 323 746-8099. Nuestro equipo en Sasooness Law Group le atenderá su caso completamente en Español. Nosotros trabajamos con accidente de auto, accidente de uber/lyft, accidentes de moto, y mas.
@ Sasooness Law Group https://www.facebook.com/SasoonessLawGroup/
Here is a rundown of how the County's other Latino candidates fared in the Nov. 6 general election:
Daly beat a Latino, Jose Moreno, whose campaign was undermined when labor forces went after him as a Hatch Act violator. That obscure Federal law prevents some municipal workers from running for legislative seats.
Christina Avalos lost in the 68th AD, to Don Wagner.
In Santa Ana, U.S. Rep. Loretta Sanchez easily beat her carpetbagging GOP opponent, Jerry Hayden, in the 46th Congressional District.
OC GOP Central Committee member Thomas Gordon was soundly defeated in the Rancho Santiago Community College District's Board of Trustees election, in Area 3, by Nelida Yanez, a Democrat. She will join Santa Ana Mayor Pro Tem Claudia Alvarez, the winner in Area 5, and Assemblyman Jose Solorio, the winner in Area 1, on a Board of Trustees now dominated by Latinos.
Republican Ceci Iglesias fared better than Gordon as she won a seat on the SAUSD School Board. Incumbent Jose Alfredo Hernandez was also re-elected.
Click here to read the rest of this post.