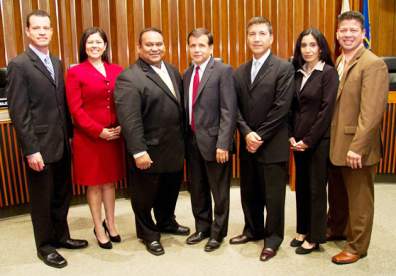 Santa Ana's City Council Members are finally reacting to the increasing violence and crime in our city – but their reaction is not what anyone might have expected. In a city where the Council Members have in the past led marches against violence and conducted town hall meetings to discuss the issue, our elected officials are now ducking and covering.
Consider what several of the Council Members told the O.C. Register after five shootings and three fatalities in the past month:
The recent violence is an "anomaly and isn't characteristic of Santa Ana," Councilman David Benavides said.  "Unfortunately, it's a reality of human nature," Benavides said. "But compared to big cities like Los Angeles and San Diego, our crime rates are minuscule by comparison when you look at population."
Councilman Sal Tinajero said that gang violence in Santa Ana has "significantly" dropped since the 1980s and 1990s, but he noted that "there is always room for improvement." Specifically, Tinajero said that providing additional after-school programs would help keep kids off the streets and out of trouble, leading to a reduction in violence. "This is a wake-up call for leaders in this city to keep looking forward for more innovative ways to stop this kind of violence," Tinajero said. "We can't just sit back and say everything's OK."
What the Council Members are not talking about is that crime has begun to spiral out of control in our city since they fired our last Police Chief, Paul Walters, who was at the time also acting as our City Manager.  They had to pay Walters a large severance package as he was under contract.  And they ended up hiring a new City Manager, David Cavazos, who cost us a small fortune. The new Police Chief, Carlos Rojas, has appeared overmatched since taking over for Walters on an interim basis.  He was recently given the Police Chief job permanently.  He might be regretting that now.
Crime is even climbing in North Santa Ana – where multiple homes in Floral Park and in the Park Santiago neighborhood have been victimiezed by burglars recently.  The burglars have even resorted to stealing dogs from homes in Floral park and the residents are, as you might imagine, besides themselves.  People who are moving into these neighborhoods are in shock as they thought they were moving to a "vibrant city" not one that is now under siege by a criminal element that the cops seem unable to counter.
And perhaps that is the real problem.  The SAPD is woefully understaffed and morale there is at an all-time low.  We already outsourced our Fire Department to the OC Fire Authority.  Perhaps it is time to outsource our cops to the Orange County Sheriff.  Doing so would allow for more cops to patrol our city.  And the Sheriff's Department is already here.  The Sheriff's office is in Downtown Santa Ana and her deputies already patrol the state, county and federal buildings in the Civic Center.
But the SAPD police union contributed a lot of money to Benavides and his fellow Council Members in 2012, including Councilwoman Michele Martinez' disastrous Assembly campaign.  So don't expect this Council to actually look at any options that might make our city safer.