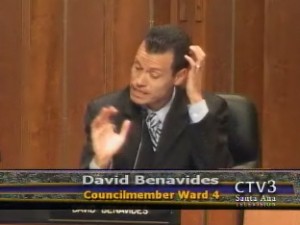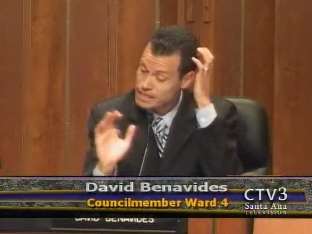 It would appear that Santa Ana Councilman P. David Benavides has forgotten which Ward he was elected to serve.  He is supposed to be representing Ward 4 – but let's take a look at his official June calendar and see what he was really up to last month:
On June 1, he did hold his regular community office hours – but then he went to theLatino Health Access "Green Heart Families Park & Community Center" Grand Opening – according to the O.C. Register that park is on

4th St., in Downtown Santa Ana

– that happens to be located in Ward 2 – which is represented by Council Member Michele Martinez.
On June 3, Benavides spent the whole day at the "Building Industry Association of Southern California – No Place Like Home Conference," at Disney's Grand Californian Hotel & Spa at the Disneyland Resort in Anaheim, Calif.  As a realtor I am sure Benavides was happy to be there – and the City of Santa Ana likely paid the bill.
On June 6, Benavides attended the KidWorks board meeting – very good.  That organization is in his Ward.  He also went to their fundraiser that night.  But in between he was dealing with the Alcohol & Entertainment Ordinance – which has to do with Downtown Santa Ana for the most part, which is in Ward 2.
He worked on a Sunday, apparently, on June 9, as he calendared the Sunsets at the Monkey Zoo – Summer Concert – but the Zoo is also in Ward 2.
Here is an odd one – he met with Supervisor Janet Nguyen, a Republican, on June 10 – and he invited several top city administrators.  Nguyen is under investigation by the FBI and the FPPC – essentially for pay to play type charges related to her campaign fundraising and her service on the CalOptima board.
On June 13, he met with Parker Kennedy, at First American Title – and they are located in Ward 1.  Why would a realtor be meeting with someone from a major title company?  Hmmm….
On June 14, he was at the Catholic Worker/Isaiah House Tour.  That was in Ward 2.
On June 15, he was at the Sender One grand opening, in Ward 1.
On June 20, he met with Pastor Gale Oliver, Greater Light Missionary Baptist Church – very nice but that church is located in Ward 5.  On that same day he met with

John Lewis

, Urban Strategies (Affordable Care Act) – that's right, Benavides is apparently interested in promoting ObamaCare.
On June 24, he met with the United Artists of Santa Ana – they are in Downtown Santa Ana.  That is in Ward 2.
From June 26 to June 30 he was at the NALEO (National Association of Latino Elected Officials) Conference in Chicago.  Yep, we paid for that too.  I am told the bill was over $10K for all the Council Members who went on this useless trip.
He was also at the Santa Ana Independence Day Celebration on June 30 – at Centennial Park, which is in Ward 6.
There you go.  Benavides is hardly ever in his Ward.  This is of course a good argument for Ward-specific elections.  He clearly is not serving the people he was elected to represent.