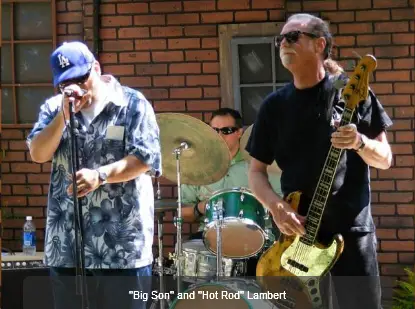 Join us for our final "Blues at the Zoo" concert of the 2010 summer series with Big Son, Mighty Mitch, and Friends!
Bring family and friends out to the Santa Ana Zoo as we wrap our 2010 summer concert series with a big "Blues at the Zoo" concert on the front lawn.
Explore the Zoo, see some cool animals and maybe catch an animal show, feed a few goats and sheep, ride the Zoofari Express train or the Conservation Carrousel, then relax on the lawn for a Sunday afternoon Blues jam. Bring a folding chair or blanket and pick a spot to hang out and see the show.
This concert features a collection of great Blues performers, featuring old school, Delta, Jump Swing, Chicago, and Americana Blues. With Mitch on guitars, "Big Son" Tom shouting the Blues, and some other great performers jamming with them, this promises to be a great show.
This show is included with regular Zoo admission (adults $8, child/senior $5)
On Sunday July 18, Santa Ana residents will get into the Zoo for free! (Show proof of address)
Date: Sunday, July 18, 2010
Time: 3:00pm – 5:00pm
Location: The Santa Ana Zoo at Prentice Park
Street: 1801 East Chestnut Avenue