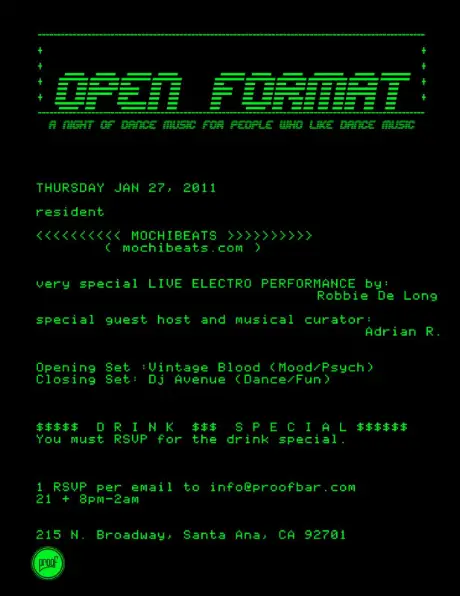 Santa Ana's Proof Bar has put together a great lineup of entertainment for this Thursday, Jan. 27.  Proof is located at 215 N. Broadway, in the Santora Building, located in the Santa Ana Artists Village.
Here is their latest update:
Get Up! Get into it!
OPEN FORMAT at PROOF BAR this Thursday, January 27.
We've put together one of the biggest line ups the bar has seen all year.
Robbie DeLong is a musical phenom who's performance is sure to be nothing like you've ever seen before. Without giving too much away, this guy does EVERYTHING. What do we mean by everything? EVERYTHING!!!!! Come see this one man act live and in person.
Opener VINTAGE BLOOD will be spinning psych and mood music to get you going. He's also promised to lay down a little Dubstep to get you in that electro-mood.
MOCHIBEATS, simply put, is a musical genius. He doesn't apologize for making mash-ups the mainstay of his set. What he does do is masterfully mix the work of others in ways that just sound….new. See more of Mochi here: http://www.mochibeats.com
Closer DJ AVENUE is a vetran of the music scene who's specialty is keeping the boogie going till the wee hours. He may not take requests but he does take a compliment very well.
Plus, we've got a couple local "gourmet" food trucks that will be in the area catering the drinking masses.
Please visit the event page on our website for up to date info and links to performers, food trucks, and more.
Make sure to RSVP or submit a reservation for parties of 6+ to info@proofbar.com
Don't disappoint us, see you Thursday! Cheers!!!