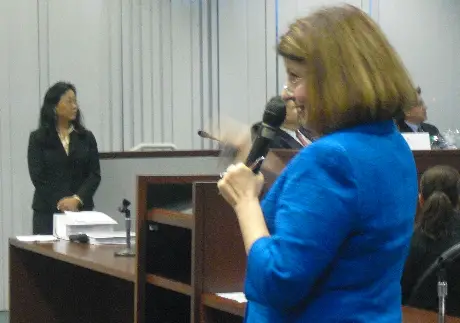 Jane Russo, the Superintendent of the Santa Ana Unified School District (SAUSD) is retiring at the end of this school year, according to a district announcement regarding Russo's pending retirement:
Angela Burrell, 714-558-5555
SAUSD Superintendent Announces Retirement
SANTA ANA, CA – January 25, 2011– Santa Ana Unified School District Superintendent, Jane Russo, has announced that she will be retiring at the end of this school year. Superintendent Russo's last official day will be June 30, 2011, ending a 38-year career in education.
Ms. Russo began her career in Santa Ana Unified in 1980 and other than a brief four year absence to serve as the assistant superintendent for the Mountain View School District, Ms. Russo has served Santa Ana Unified as a classroom teacher, assistant principal, principal, area administrator, deputy superintendent, interim superintendent and superintendent. "Santa Ana is my home. It has been a pleasure and an honor to serve this community, the families and the children of Santa Ana," said Ms. Russo, who is a resident of Santa Ana and has served as superintendent of Santa Ana Unified since January 2007.
During Ms. Russo's tenure as superintendent under the watchwords of "Success is the Standard," Santa Ana Unified has experienced dramatic academic gains. Guided by her leadership and renewed focus on instruction, SAUSD has made gains in overall district Academic Performance Index (API) of 66 points, going from an API of 657 in 2006 to 723 in 2010. All 36 elementary schools have an API score that is now over 700. In addition, Santa Ana Unified now boasts of 28 California Distinguished Schools, five National Blue Ribbon Schools, and although named as persistently low achieving, Saddleback, Valley and Santa Ana High Schools were named as three of the most improved high schools in Orange County for students passing the California High School Exit Exam.
Superintendent Russo is also to be credited with the leadership and support of the Board of Education to go forward with the Measure G bond election in June of 2008. When they said it couldn't be done, Ms. Russo knew with confidence that the community of Santa Ana is supportive of their schools and their students. With the successful passage of Measure G, a $200 million bond measure, Santa Ana Unified has been able to remove unsightly portable classrooms from the campuses, improve and modernize the schools, build new classroom facilities, and upgrade play areas. With Ms. Russo's direction, SAUSD put its confidence in the community of Santa Ana and community responded by having confidence in the school district.
As superintendent, Jane Russo has reviewed, revised and updated every operational aspect of the Santa Ana Unified School District. Throughout the district, from the delivery of the instructional program, attendance, data analysis, financials, contracts, purchasing, human services and staff development, to name a few, every area has been affected and improved under Ms. Russo's leadership.
Board President, José Alfredo Hernández, J.D., had this to say regarding Ms. Russo, "Jane Russo has without question dedicated herself to the improvement of the educational opportunities for the children of Santa Ana. Our School District has made significant progress in student achievement, school facilities and the overall morale of the employees of our District. While Ms. Russo's retirement is a loss for our District, it is an opportunity for her personally to continue on to the next chapter in her life. I am personally grateful for the opportunity to have worked with her and am confident that she leaves our District in a position where the next Superintendent can simply continue where she left off with the stewardship of this District."
The Santa Ana Unified School District has been fortunate to have the leadership that Ms. Russo has provided. In the coming weeks, the Santa Ana Unified School District's Board of Education will meet to discuss the next steps and the process for selecting a new superintendent.
###
While the district has had a tough time through much of her tenure, things appear to be looking up of late.
Harvey Elementary School received a gold rating and ranked ninth on the OC Register's Top 10 elementary public schools listing released on January 16, 2011. The list ranks 383 public schools Countywide.
Of the 146 public schools which received a medal, nine are within SAUSD:
Harvey Elementary – Gold
Muir Fundamental – Gold
Greenville Fundamental – Silver
Romero-Cruz Elementary – Silver
Thorpe Fundamental – Silver
Diamond Elementary – Bronze
Esqueda Elementary – Bronze
Monroe Elementary – Bronze
Sepulveda Elementary – Bronze
But the district is still plagued by a high drop-out rate and low graduation rates.  And the fundamental and charter schools vastly outperform the neighborhood schools.
Russo was hired in 2007, by the SAUSD School Board after a visibly bogus national search.  She had been an assistant to her immediate predecessor, Al Mijares.  Click here to read Russo's official bio.
I guess now we will get to see the SAUSD School Board conduct another fraudulent national search for Russo's replacement.
Russo no doubt will have a very nice public pension to enjoy in her golden years.