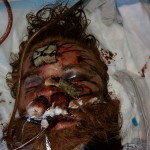 UPDATE:  DA TONY RACKAUCKAS HAS CHARGED 2 FULLERTON POLICE OFFICERS IN CONNECTION WITH KELLY THOMAS' DEATH
FPD officer Manuel Ramos will be charged with second-degree murder and involuntary manslaughter.   Ramos faces up to 15 years to life in prison.
 Cpl. Jay Cicinelli will be charged with involuntary manslaughter and use of excessive force.  He faces up to four years in prison.
They will be arraigned at 2PM this afternoon at the courthouse in downtown Santa Ana.
Read the Register article about this here
ORANGE COUNTY DISTRICT ATTORNEY MEDIA ADVISORY
TONY RACKAUCKAS, District Attorney
Susan Kang Schroeder, Chief of Staff, Office: 714-347-8408 , Cell: 714-292-2718
Farrah Emami, Spokesperson, Office: 714-347-8405 , Cell: 714-323-4486
FOR IMMEDIATE RELEASE: Date: September 20, 2011
WHO: Orange County District Attorney (OCDA) Tony Rackauckas
WHAT: Received today the Coroner's Report from the Orange County Sheriff's Department regarding the cause of death of Kelly Thomas. District Attorney Rackauckas will hold a press conference tomorrow to discuss his filing decision following the OCDA's investigation of six Fullerton Police Department officers in the death of Thomas. Continue reading→