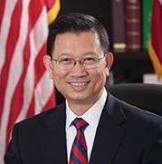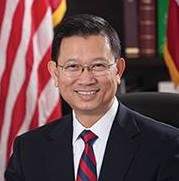 Homelessness: Supervisor Andrew Do asks for public's support for 300-bed homeless shelter
At Tuesday's meeting, OC to consider $1.4 million contract with Midnight Mission to run 300-bed shelter with 24-7 security 

(Santa Ana, California)— Orange County Supervisor Andrew Do is presenting for public input his ambitious plan to turn an abandoned bus terminal into a homeless shelter — within 30 days.
On Tuesday, the Orange County Board of Supervisors will vote on a $1.4 million contract with Midnight Mission to run a 300-bed homeless shelter with round-the-clock security as well as job training services, permanent housing options, health care, mental health services, substance abuse treatment and veteran assistance services.
Supervisor Andrew Do, who first proposed the plan last month, is now asking for the public's support for the Midnight Mission proposal at this Tuesday's Board of Supervisors meeting.
"We set an ambitious goal to have this shelter up-and-running within 30 days," said Supervisor Andrew Do, whose First District includes Santa Ana. "Midnight Mission is the right operator to run this shelter that will get people off the streets and onto a productive path to self-sufficiency."
He added, "Our homeless population, many of whom are veterans that honorably served our country, deserve our attention and a helping hand up."
Midnight Mission Plan: Daytime drop-in center, 300-bed overnight shelter
In its proposal, Midnight Mission outlined a plan that includes a daytime drop-in center and overnight shelter for homeless men, women and their pets.
"The goal is to provide safety net services, including shelter and connections to service providers, and to be low-barrier and engagement rich to provide people experiencing homelessness a pathway to service connections, healthcare, housing and stability,"  the oldest continuously operating human service organization in the Los Angeles region wrote in its proposal.
In addition to the contract with Midnight Mission, county supervisors will consider a proposal from City Net to manage non-profit organizations that provide assistance at the Civic Center.
Supervisor Andrew Do said that will end duplicate programs, maximize non-profit assistance and help regain control of the Santa Ana Civic Center.
"Right now, there's a lack of coordination between well-meaning volunteer groups and generous non-profit organizations," he said. "Every organization needs to be working together towards our shared goal of cleaning up the Civic Center."
Goal: Up and Running by October 6
On August 31, during an interview with KFI AM 640's "The John And Ken Show," Supervisor Do first announced his plan to transform the Santa Ana Transit Terminal into a new homeless shelter.
On September 6, the Orange County Board of Supervisors unanimously approved Do's plan and directed staff to get the shelter open within 30 days. The following week, the Board approved $8 million to provide housing for people who currently are living on the streets or are at risk of becoming homeless.
Since taking office in 2015, Supervisor Andrew Do has made it his top priority to tackle homelessness in Orange County.
Supervisor Andrew Do fast-tracked El Nino Emergency Shelter
In advance of the El Nino storms, Supervisor Do succeeded in fast-tracking the transformation of the same facility into an emergency El Nino storm center, which provided food and shelter over more than 4,000 visits during the winter.
Over the past two years, the county has taken steps to improve the conditions. As recently as three weeks ago, the county installed new bathrooms, providing 24-7 access for homeless individuals.
Supervisor Andrew Do proposed homeless czar
Last fall, Supervisor Do first proposed a social care coordinator, or homeless czar to cut through bureaucratic red tape and improve existing services. That position was filled in May – with the appointment of Susan Price.
In May, the Orange County Board of Supervisors also voted to open the competitive bidding process for an operator for the county's first permanent, year-round shelter and multi-service center, which was unanimously approved by the board in November. The new shelter will provide shelter to 200 people, with supportive services available to help the homeless with everything from employment to mental health care.
Collaborating to help homeless veterans
Orange County has also partnered with local lawmakers and non-profit organizations to expand assistance programs and maximize mental health spending.
In April, American Family Housing announced that, thanks in part to the county's assistance, it was receiving $1.7 million for a new veteran housing project in Midway City. Expected to open in November, Potter's Lane will provide housing and wrap-around services to homeless veterans.
In June, the Orange County Board of Supervisors moved forward with an application for an innovative pilot program focused on "whole person care." If selected, the county and federal matching-funds would allocate $23.5 million to provide targeted wrap-around services to at-risk groups.
###
A former Orange County prosecutor, Supervisor Andrew Do represents the First District communities of Garden Grove, Fountain Valley, Midway City, Santa Ana and Westminster.