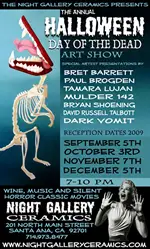 Night Gallery Ceramics Presents The Annual Halloween Day Of The Dead Art Show, starting tonight, Saturday, October 3rd, from 7:00pm – 10:00pm.
The event will include Wine, Music and Silent Horror Classic Movies, and special Artist's Presentations by: Brett Barrett, Paul Brogden, Tamara Lujan, Mulder 142, Bryan Shoening, David Russell Talbott, and Dark Vomit.
Future Reception Dates: November 7th and December 5th.
Night Gallery is located at 201 N. Main St., in Santa Ana.  You may call them at  (714)973-8477. Continue reading→