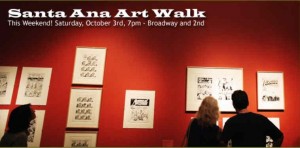 The Santa Ana Artists Village Open House is this Saturday night!
The Santa Ana Artist Village Art Walk is held every first Saturday of the month, rain or shine. The event starts at 7pm and runs through 10 p.m.
This is free for all to attend and enjoy the atmosphere. Come, introduce yourself to a local artist, invite your friends, grab a bite, lot's to do in Santa Ana Artist's Village.
Parking can be found in the 'Artists Village Parking Structure' at Third Street and Broadway.
Walk through the galleries and studios, see a live performance or just hang out and enjoy the music.
Venues Open:
Grand Central Arts Center
Orange County Center of Contemporary Art
Santora Art Building
Spurgeon Art Studios
Calacas, featuring their new Afro-Mexican photo exhibit
And while you're there, you might as well eat:
Memphis Cafe
Gypsy Den
Lola Gaspar
Proof
The Crosby
Original Mike's
The Open House schedule for 2008 is: December 6. Schedule for 2009: January 3, February 7, March 7, April 4, May 2, June 6, July 4, August 1, September 5, October 3, November 7, and December 5.
Also, Cal State Fullerton's Grand Central Art Center Presents:
CSUF Visual Arts Faculty Exhibition
September 5 – October 18, 2009
Grand Central hosts the annual California State University Fullerton Faculty Art Show.

And don't forget the Santiago Art District's Art Walk on Oct. 17, over at the Santiago Lofts!  Click here to read all about it.